January 17, 2020
Sawyer Brockstedt stayed true to current form with her Jan. 5 win at the Junior Honda Classic at PGA National's Squire Course in Palm Beach Gardens, FL.
The seventh grader at Sussex Academy shot 76 in the first round, but her 75 in windy conditions in the second and final round pushed her ahead of the rest of an international and competitive field. She was the only golfer to go below 80 that day.
Brockstedt's victory capped a fine tournament record that began with the USGA Women's Four Ball Qualifier in late September. She teamed up with her buddy, Ellison Lundquist, for a 74. Against predominantly collegiate competition, they improved their 2018 attempt by 13 strokes, but missed the cut.
Brocktedt next won a US Kids Regional tournament in October, and followed that with another win in a Hurricane Junior Tour event. She tied for 6th at the Hurricane Junior Tour Tournament of Champions at the Disney Palm Course Dec. 8, and tied for 2d at the Doral Publix Junior Golf Classic Dec. 19 in Miami, FL. Three days later she won the US Kids Holiday Classic, on the Fazio Course at PGA National Golf Club in Palm Beach Gardens, FL.
Her course management skills were tested at the Honda, but she passed. "I have a swing right now that has a high swing path, and so my ball goes really straight or has a really big draw on it, so the wind was taking it. It was hard to play for it some of the time, so I was just aiming it far out there and having it come back," Brockstedt said. "I didn't want to mess with my swing too much. I would just play what I had and play the wind. "
Brockstedt's personal growth spurt continues. She is at least five inches taller than she was in 2018. Her coaches, Mike Hunt and Rick McCall, Jr. told her she would have to adjust to her body's changes, and it wasn't easy. "I think that was part of the hard time I was having this summer," she said. "I had a couple good rounds but wasn't consistent. Now I think my game is coming back. I played really well from October through now and hopefully it'll stay for a little bit."
She also maintains an active workout regimen, including running, plank pushups, resistance bands, medicine balls, bozo balls, and TRX suspension training. "It's all about fitness. At Trump Doral I saw lots of the older girls and boys doing workouts before their rounds," Brockstedt said.
Her work on and off the course is paying off. "I know my whole game is getting better, because my bad rounds used to be 80, 82, 85, and my good rounds would be really anything in the 70s. Now it's like 77, 78, 79 are bad, and 70, 71, 72, 73 are more the usual and good. I'm seeing more consistent numbers. Everything has just gone up a notch," she said.
First ace for Thompson
Congratulations to Barb Thompson for her first-ever hole in one, made Jan. 10 at Rookery South. She used her 7-wood on the 122-yard par 3 17th hole.
The course was crowded that day thanks to the unseasonably pleasant weather. No word yet on whether the Rookery's bar was equally crowded, leaving Thompson with an expensive (but worth it) bar tab for the traditional after-ace celebration.
The Show is going on
Next week is the annual PGA Merchandise Show in Orlando, FL, with the Demo Day Jan. 21 at the Orange County National Golf Center and the next three days at the cavernous Orange County Convention Center's West Concourse.
Thousands of club pros and hundreds of media types like yours truly will swarm over a million square feet of exhibitor space to see the latest in equipment, apparel, software innovations, and golf hardware of all types.
Some golf businesses attempt to gain a head start on this traditional season-opener with offerings and announcements just before the Show. Thanks to the folks at Wilson Sporting Goods I will soon test a couple sleeves of their new DUO Optix and DUO Soft + golf balls.
Wilson made the announcements about the new designs Jan. 14, just ahead of the Show's start.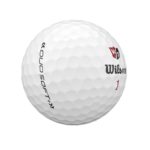 The DUO Soft + is a two-piece low-compression offering, using the company's Velocitor ™ core technology.
The intent is to provide "an ideal blend of longer distances and exceptional feel," according to Frank Simonutti, Wilson's Global Director of Golf Ball Innovation.
Using tests with a 90 mph club head speed, the assumed average for male golfers, the ball's initial velocity increased by 2 mph over previous designs.
The DUO Optix golf balls should be easy to find on the golf course. They feature a "semi-translucent highly visible and colorful matte cover," according to the Wilson press release.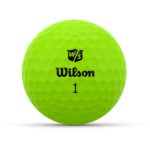 The matte color options include red, yellow, orange, and green.
The MSRP for both models is $19.99 per dozen, and should be available at golf retailers and the Wilson website starting Jan. 27.