June 19, 2004
The Cape Region lost one of its fine ambassadors for the sport of golf with the June 3 passing of Thomas (Tom) K. Metz, 78, of Lewes.
Metz was a delightful conversationalist, a successful financial consultant, and proud family man.
My first dealings with him came shortly after one of his personal golf triumphs that did not take place at Rehoboth Beach Country Club, his home course.
Here's a shortened version from my July 9, 2004 column:
On June 30 Metz shot his second-ever ace, this time at the 190-yard par-3 14th hole at Pine Valley.
"It was just unbelievable," he grinned.
Metz joined seven other Rehoboth CC members for two days of Pine Valley golf as the guests of Hank Sanderson, a member at both clubs. Sanderson's foursome included Dr. Joe Morgan, Rick Steele, and Frank Shuman, while Metz played with Jack Storms, Dave Isenberg, and Richard Crick.
The 14th hole features a 180-yard carry over water from a slightly elevated tee to a sharply sloped green, with water behind the green and trees on both sides.
"I hit a Titleist Pro V1 with my three-iron and it went right at the hole. It landed about five feet away and just stopped. Then it started trickling, and all of a sudden it just disappeared. I think it took 5 or 6 seconds. The caddie told me he's worked there for 14 years, and this was the first hole-in-one he's ever seen on the 14th. It was just a heck of a shot," Metz said.
My condolences to his wife Marianne and the rest of his extended family. Metz was a gentleman and it was my honor and privilege to know him.
Delmarva Christian Schools fundraiser tournament July 17
The phased-in return to regular golf in the Cape Region continues, including charity golf fundraiser tournaments.
Delmarva Christian School is holding its 2020 DCS Golf Classic July 17 at Heritage Shores Club near Bridgeville, DE. 
Registration and the practice range open at 7:30 a.m., with a shotgun start set for 9:00 a.m. The deadline for signing up for the event ends July 6.
The entry fee of $450 per foursome or $125 per golfer includes the range, cart, golf, and an on-course box lunch.
During the round competitors can keep track of where they stand via a live leaderboard using Golf Genius software. With continuing pandemic restrictions, there will be no gathering afterward for the traditional banquet lunch and award presentations. Instead, the event organizers plan to use Facebook Live to announce the winners as well as coordinate the auction and prize pick-ups.
Tournament proceeds will be used to support the school's need-based tuition scholarship fund. As the event announcement DCS noted, "On the heels of a very difficult time in many of our families' lives, we anticipate a greater need for scholarships for the 2020-2021 school year."
For more information, contact DCS Director of Development Justin Savini at jsavini @ delmarvachristian.com or go to Delmarvachristian.com/golf.
Local club competition results
The Mulligans Pointe Ladies played a Pick Your Poison game June 16, in which players selected which holes would be used for scoring, including three par 3s, two par 5s, and four par 4s.
Susan Shockley won first place, with Carol Love in second and Linda Townsend in third.
Last-minute Fathers Day suggestions
It is not too late to find something suitable for golf-loving dads for Fathers Day, June 21.
Here are a few suggestions.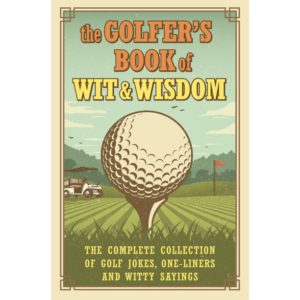 Hatherleigh Press, an imprint of Penguin Random House LLC, recently issued "The Golfer's Book of Wit and Wisdom" ($12.50 SRP). Compiled by Gerd De Ley, the 137-page volume claims to be "The complete collection of golf jokes, one-liners, and witty sayings" about our favorite sport.
I don't know about it being "The complete collection," but it is a good one, with a nice mix of the familiar and the hadn't heard that one before.
Here is one I already knew, credited to Art Rosenbaum: "Golf is a game in which the ball lies poorly and the players well."
Here is one I learned by reading this book, from Sandy Parr: "A golfer who can chip and putt is a match for anybody. A golfer who cannot is a match for nobody."
There is still time to buy a gift card for a professional club fitting at Club Champion, which recently re-opened its stores after a pandemic-related closure for the last few months. The closest location for the Cape Region is near Christiana, DE, but you can also check online at clubchampiongolf.com for a location close to your father.
The gift cards can be bought online at http://bit.ly/ClubChampionGiftCards or by calling 888-340-7820.
And of course, copies of my award-winning book, "Hole By Hole: Golf Stories from the Delaware's Cape Region and Beyond" can be found at several local bookstores and pro shops, including Biblion Books in Lewes, Browseabout Books in Rehoboth, and Bethany Beach Books ($17.95 SRP).
If you patronize these stores you will help local businesses recover from the pandemic, as well as find something nice for your dad.
Happy Fathers Day!