December 2, 2022
Sometimes a company's management looks at what its competitors are doing and wonders why they aren't doing the same thing.
That is the essence of the story behind SaintNine golf balls.
I met SaintNine's Inside Sales Manager Jonathan Hoang and Brand Manager Christian Anderson at the 2022 PGA Show to discuss the company and its products.
The Nexxen Corporation of South Korea is a major international rubber and tire company and owns SaintNine. The fact that Japanese rubber and tire company Bridgestone had already been there and done that in the golf ball business was not lost on SaintNine's originators.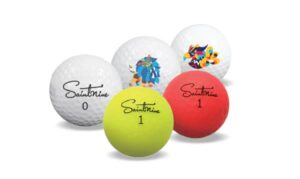 SaintNine offers three models – the U-Pro, the Extreme Soft, and the Misty.
Hoang said the U-Pro is its best-selling ball. Offered for $29.99 SRP, it is a two-piece urethane cover design. The Extreme Soft, at $49.99 SRP per dozen, also features a urethane cover but uses a 4-piece construction.
Aimed at the mid to low handicap golf segment, Hoang said it provides good distance off the tee and great spin for approach shots. Think of Srixon Q-Star Tours or Titleist Tour Speeds for comparison.
The Misty, a 3-piece Ionomer-covered ball, is designed to appeal to golfers who like a colorful matte finish. Sold for $29.99 SRP per dozen, the Misty is available in red, yellow, flamingo, and green. According to Saint Nine, its market competitors include the Volvik Vivids and Vice Pro Soft brands.
Saintnine's primary distinguishing feature appears on each ball. Mental Mates logos are brightly covered renditions of nine animals, ranging from lions to eagles to puppies. Each Mate is intended to invoke an element of golf's mental game, such as a lion's confidence, and elephant's calm demeanor, or a puppy's positivity.
The balls are sold online at the company's website, as well as PGA Tour Superstores, WorldWideGolf.com, RockBottomGolf.com, and over 100 green grass shops. 
Golfzon
I met Jacob Howes, National Marketing Manager for GolfZon at the 2022 PGA Show. We discussed a few of the popular golf simulator company's offerings for the upcoming season.
Howes first showed off its new TwoVision system, which uses two high-speed cameras to catch all the action. Thanks to other innovations, depicting that action is far more realistic than past efforts.
Golfers stand on a swing plate that measures pressure changes in the feet. GolfZon's plate also tilts up to 15% in 24 directions. Those options include where the ball is resting on the opposite slope than your feet, a challenging real-life possibility.
Howes also showed me TwoVision's multi-surface turf options, including fairway, 2 depths of rough and 2 depths of "bunker." Each turf varies by color, depth, and density. The ball can sink into the bunkers or rough. He said the system is "incredibly realistic. The surfaces mirror reality."
We also discussed the fact that golf simulators often had trouble creating a realistic environment for putting. Howes said golfers can "putt every inch on here. The golfers get it once they try it."
TwoZone uses an LED putting guide to help read the greens as well as an impressive graphic display. If you want the help, it also comes with a virtual caddie to nag you into a better performance.
GolfZon relies on a network of dealer showrooms and over 55 facilities that already use the system. Obtaining this level of virtual reality calls for a significant investment, in this case north of $51,000.
For personal or commercial use, the system also requires a minimum of 11 feet of clearance, so plan accordingly to adjust your home, office, or club space to accommodate it.
Uneekor Launch Monitors
I chatted with Scott Lee, Director of Marketing for Uneekor, Inc. at this year's PGA Show.
Uneekor is a Korean company that makes and sells indoor golf launch monitors for commercial or personal use. Lee said sales on the personal side of its business greatly expanded during the pandemic.
The QED monitor was the company's first monitor, using two infrared cameras combined with its Ignite software. This system requires specially dotted golf balls to enable the cameras to read the balls' post-impact reaction. The software then relies on algorithms to develop displays of the ball's flight and a variety of data for each hit.
The metrics include smash factor, club speed, club path, club face angle, and club face to path angles. The company's Swing Optix camera, sold separately, provides slow-motion replays to help analyze your swing.
The system requires a space roughly 13 feet square and 9 to 10 feet high and is priced at $7,000 SRP.   
The EYE XO is the company's more sophisticated indoor monitor, according to Lee. It offers real time data, swing path optics, slow motion analysis options, and a broader range of data metrics. In addition to the data provided by the QED system, with the use of club stickers this model also gives golfers attack angles, dynamic loft, club loft and lie angles, and the vertical and horizontal impact points on the club face.
The EYE XO uses the same dimensional requirements as the QED, with a suggested baseline SRP of $10,000.