November 14, 2014
At last January's PGA Merchandise show in Orlando, the folks at Rife Putters asked me to try out one of their new putters. I filled out a form indicating my putter length preference, and whether I was right- or left-handed.
Then several months went by.
The putter that arrived in mid-summer was a sharp-looking Rife Commander Vault .002 model, in my requested 34-inch length, with a coated black finish, white sight lines, and a few flourishes in blue and orange.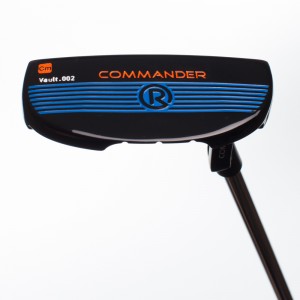 The immediate dilemma was the fact that I was having a great putting season with my current flat stick, a "classic" Ping B60 mid-mallet design.
As a completely rational golfer, I didn't want to jinx my future rounds during the score-posting season by replacing the Ping with the new Rife.
Therefore, I held off trying out the new putter on the golf course until November, when the scores wouldn't count.
I need not have worried. For me, the performances of these two putters were extremely similar. Some of that may have to do with their physical similarities.
Both weigh between 340 and 350 grams. Ten grams is about one-third of an ounce, so it's understandable that I might not feel the difference, if any.
Both clubs use a plumber's neck hosel, with the clubface offset just to the side of the putter shaft. This aspect of putter design is a matter of visual preference for golfers. I've always preferred it to other designs dictating where the clubface lies relative to the club shaft.
One noticeable difference is how the clubfaces hang when balanced on a finger. The Rife Commander's toe points downward about 45 degrees. The B60's downward inclination is closer to 30 degrees, by my estimate.
For golfers who putt straight back and straight through, a clubface that lies horizontal (called face balanced) would be a better option than these two putters. Ping identifies the B60 as well suited for those who putt on a slight arc, and that is what I do.
When I played the Rife Commander, it felt just as suitable for my putting style.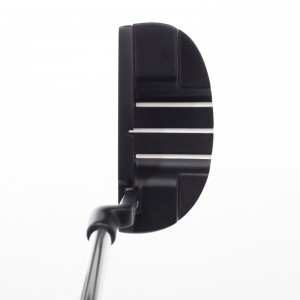 The Commander has one alignment aid that improves on the B60. A small notch is cut into the top line of the putter, directly over the center white line behind the face. The notch helps confirm that your eyes are directly over the putter, by making the white line's end visible when they are. It's very handy.
The Rife putter also features grooves in the putter face, in contrast to the B60's smooth front. Grooves are marketed as a way to make the ball leave the putter face faster than non-grooved clubs, but so far I haven't seen or felt any difference.
At a suggested price of $159, the Rife Commander is in the mid-range of putters sold by well-known club makers. I will continue experimenting with this putter over the winter, if the weather cooperates. Thus far, the Commander seems to be the equal of my trusty Ping.
That puts it in good company.
Rookery First Tee Pro-Am a success
Twenty-four foursomes gathered together at Rookery North Nov. 5 for the Rookery First Tee Pro-Am. The event raised over $3,000 for The First Tee of Delaware, according to Rookery Head Golf Professional Butch Holtzclaw.
Golf pros took the first five places in the Individual gross category, led by Will Scarborough's 69. Tyler Smith tied for second at 70 with Mike Rushin, with Randy Hambrick and Chris Brosius tied for fourth with a pair of 73s.
Smith's foursome also won first place in the team competition, using one best ball gross and one best ball net for each hole (130). He was joined by Arthur Giangrant, Calvin Hudson, and Matt Addonizio.
The Rookery's Chris Osberg led his foursome to second place, accompanied by Joe and Scott Shockley and Mark Johnson, the former Cape Henlopen golf standout (131).
Ricky McCall's group took third place at 132. His team also included Gary Cecchett, Brian Stetina, and Jay Stoudt.
King Creek Country Club's Kevin Wiest's squad of KCCC ladies won fourth place at 134. Wiest played with Anita Pettitt, Deb Ward, and Linda Outlaw.