June 25, 2021
The Delaware State Golf Association Scholarship Fund announced this year's winners of college stipends at a ceremony June 14 at Rehoboth Beach Country Club.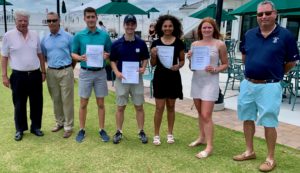 Each spring a committee reviews the applications. Scholarship winners demonstrate high academic achievement, community service, and a love of golf.
Nimah Smith of Kennett Square, PA won the 2021 Robert McCurry Award. She will receive $6,000 for her first year of college, up to $28,000 total.
Benjamin Mayhew of Middletown, DE won the R. Gerald Medd Award, worth $5,500 per year or $22,000 total. Mayhew is a legacy Fund recipient. His father Kyle won a scholarship in 1990 and his brother Tyler received one in 2018.
Alex Mulrooney of Wilmington, DE won the Ron Barrows Award of $5,500 per year or $22,000 total. Thomas King of Hockessin, DE won the James Powell Award, worth $4,000 per year or $16,000 total. Lily Wagner of Camden, DE won the final award of $3,000 per year or $12,000 total.  
Since 1986 the Fund awarded over $1.4 million to recipients from throughout Delaware. To sustain the program the DSGA runs a major fundraiser tournament at Rehoboth Beach CC. This year's event is currently scheduled for Aug. 30.
For more information about the Fund or to make a contribution, go to http://www.dsga.org/junior-golf/scholarship-fund/.
E-Z-GO
When pandemic restrictions eased, golf rounds increased significantly. Golfers came back to the sport in unexpectedly large numbers, according to the National Golf Foundation. 
E-Z-GO, a division of Textron Specialized Vehicles, had an "interesting year," according to spokesman Brandon Haddock.
"The [2020] spring was tough," he said. "We had supply chain impacts and challenges with logistics and raw materials for a while."
In 2018 I toured the E-Z-GO factory in Augusta, GA, shortly after the company moved to a large facility that appeared to be larger than necessary. Accommodating COVID-related restrictions and regulations used some of that extra space, Haddock said.
The company also saw a boost in sales. "Business was very good," Haddock said. "Demand increased, and for the consumer business, our individual sales went very well."
He said Textron leased out larger fleets than expected, in part because of rules changes that limited cart use to singles. That came with its own problems, however. "Increasing the number of carts can have a dramatic effect on operations," Haddock said. "At many golf clubs, the barns can't accommodate a larger number of vehicles."
The updated RXV ELiTE lithium battery powered cart, introduced at the 2021 virtual PGA Merchandise Show, resolves some of those concerns. "It continues to do extremely well for us," Haddock said.
The longer lasting running charge the lithium system can hold "eliminates the anxiety of getting two rounds in per cart," he said.
The new ELiTE carts can be outfitted with an optional USB port and an Insider Bag that provides over 36 liters of storage under the seat. "We know that golfers like to bring more stuff with them. The new Bag option supports that lifestyle," Haddock said.
Local club competition results
The Rehoboth Beach CC Ladies 18-hole group played a Stableford game June 23. Suzanne Moore, Elise Coar, Kim Stockson, and Lora Drewer won first place gross.
Roberta Amendola, Peggy Roca, Jeanne Allen, and Jullie Burton won first place net, with Sheila Halfpenny, Tina Brinsfield, Pauline Porter, and Sharon Emerson taking second. Judy Shaw, Cyndy Simeone, Beth Forbes, and Priscilla DeSena finished third.
The Mulligan's Pointe Ladies 18-hole group played a Stableford game June 22, won by Kathy Hudak. Karen Feuchtenberger came in second and Peggy Claussen finished third.
The Rehoboth Beach CC Ladies 9-hole group played a five-hole best ball game June 22.
Christine Moore, Joyce McCoy, Susan Miller, and Shae Searl tied for first net with Mary Enzler, Lynn Runsten, Joan O'Toole, and Beverly Billingsley. Renee Simonton, Susan Rodgers, Lynn Kokjohn, and Rosemary Farley took second.
The Kings Creek CC Ladies 9-hole group played a 2, 1, 1 team game June 16, using the 2 best scores on par 3s and one best ball score on the par 4s and 5s.
Barbara Weissenberger, Jackie Maddalena, and Pam Cranston won first place. Rosemarie Schmidt, Brenda Schilli, and Francie Young finished second. Carolyn Horn, Annette Stellhorn, and Trish Galioto came in third.
The Rehoboth Beach CC Ladies 18-hole group held a Member-Guest event June 16, using a Two best balls of Four format.
Kerry Lockwood, Jennifer Mirabella, Jullie Burton, and Kimmie Hutchinson were the overall net champions. Peggy Rocca, Janice Calomiris, Barbara Collins, and Linda Malloy took second.
Tina Brinsfield, Mary Jo O'Connor, Patty Lessy, and Allison Ford finished third, with Kim Stockton, Geri Scanlon, Arlene Simms, and Ronnie Dannerhoj taking fourth. Elise Coar, Debbie Polise, Lora Drewer, and Holly Scanlan finished fifth.
Carroll Knott, Marion Knott, Carroll McGill, and Paula Campbell won first place gross, with Sally Fogarty, Pressie Hoffman, Bailey Scheurer, and Kathy Hayes in second.
The Rehoboth Beach CC Ladies 9-hole group played a Stableford Scramble game June 15, won by Susan Rodgers, Deborah Hudson, Isabelle Hessick, and Rosemary Farley. Maura Lindsay, Jenn Barrows, Shae Searl, and Lynn Runsten took second place.