February 24, 2023
The golf simulator business is booming at dedicated venues, golf courses, and private homes.
Several Cape Region courses feature these remarkably life-like systems, such as Plantation Lakes and Rehoboth Beach CC. Other clubs are adding them to their service mix. I know some folks who plunked down serious cash for an in-home personal system.
Top Golf/Callaway recently invested in Five Iron Golf, an indoor golf entertainment company. It offers simulator access, golf lessons from teaching pros, club fitting services, and event space. The new company opened several locations in Baltimore MD and other major cities and is expanding.
The Foreland Club, newly open in Ocean View, gives local golfers and golf tourists a similar opportunity to enjoy the indoor simulator experience, improve their game, and take part in league play locally and through online networks.
Dustin Smale, Foreland Club's owner, is a longtime PGA professional. Most recently he has been the Atlantic Regional Manager for TrackMan, one of the best simulator/launch monitor companies in the market. A Penn State PGM graduate, he previously worked as an assistant golf pro at Overbrook GC near Philadelphia.
His TrackMan work made him a bit of a road warrior. His family moved to the Cape Region several years ago when his wife Lisa accepted a position as an emergency room physician at Beebe Healthcare.
Last year, Smale decided to draw upon his extensive knowledge of the simulator business and develop a local alternative.
We met recently at his new business at 24 Village Green Drive, across the street from the bag drop for the Bear Trap Dunes golf course. The company's spacious interior is on the second floor, complete with elevator access and a nice view looking out toward the golf course from a small balcony.
Three massive hitting bays measuring 16 by 16 feet and 10 feet high dominate the space, with plenty left over for an entertainment center, golf equipment displays, and bookshelves filled with handy golf instruction titles from Smale's personal collection.
Smale said Mizuno, Titleist, and Footjoy will have a presence at Foreland, offering clothing, gloves, and shoes as well as irons and woods. He said other club companies are also "in discussion" about making sure their products are on hand for custom fittings. Smale also said equipment purchases will come with member discounts.
Each bay is equipped with a TrackMan 4 monitor, the newest in the company's line. The monitor system relies primarily upon radar, but this version also comes with a high-speed camera.
As Smale explained, the camera records the club's downswing a few feet before impact, focusing on three discrete areas of the club head at over 170 frames per second. The camera data permit the system to locate the club head in three dimensions and better predicts the ball's flight, enhancing the already impressive algorithms on which the monitor relies.
Foreland Club also uses the new Titleist RCT golf balls to increase accuracy. Developed in conjunction with TrackMan and other monitor companies, these special Pro V1 and Pro V1X balls include "embedded radar reflective technology" that optimizes the monitors' ability to capture true launch, speed, and spin data. Equally important, the Radar Capture Technology (RCT) inside the balls does not affect their performance characteristics.
Smale said the RCT balls eliminate a prior limitation of monitor systems. Previously, golf balls needed to complete two revolutions after impact before activating the radar and beginning to track the flight. The RCT creates faster tracking, making the predictions even more accurate.
The RCT balls are not cheap at $70 per dozen but should handle several hundred impacts before replacing.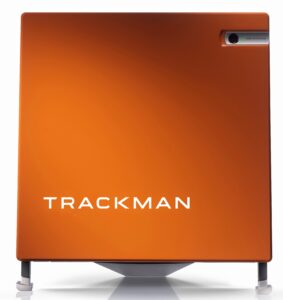 Smale installed Real Feel Golf Mats in the bays, based on his experience. The artificial turf does not "bounce" if you hit a fat shot. Other mats can create a false impression that you made a better swing than you did. When I tried it, the impact felt like a real, firm fairway.
Foreland Club offers several options for joining in the fun, with monthly, biannual, and annual fee structures. Smale also stressed that as an indoor facility, the club also offers 24/7 access, which comes in very handy for local golfers whose work schedules keep getting in the way of a good time.
I have a feeling the Smale family's experience with a busy all-hours ER facility played a role in that business decision.
Club staff will be present and new users will go through a half-hour orientation session to familiarize themselves with the equipment. The TrackMan 4s offer dedicated range practice sessions, dozens of course simulations, and several fun game options. Practice data can be stored for later work with teaching professionals if desired.
I tried my luck with a mix of approach and chip shots to the 18th green on The Old Course at St. Andrews. The ball flights, carries, bounces, and rolls looked completely realistic.
I also discovered that hitting one of the buildings across the street from that hole can bounce the ball back onto the green, but I don't recommend trying to repeat that shot.
For more information, go to TheForelandClub.com or email info@ theforelandclub.com.