April 28, 2023
I met E-Z-GO Communications Director Brandon Haddock at the famous cart company's large and crowded booth at the 2023 PGA Show.
Last year's product line for electric golf carts marked a decided shift in electric power sourcing for the Georgia-based manufacturer. All electric vehicles moved to lithium batteries, providing weight savings, maintenance improvements, and other management benefits.
"Demand for the carts continues to amaze us," Haddock said. "It put a real shot in the arm for the company, both on the fleet side and especially the consumer side."
The 2023 RXV model adds several new attractive elements, including integrated LED head and accent lighting.
The dashboard is car-like, with added space for electronic devices, balls, tees, and drinks. Automotive style hanging foot pedals eliminated the old see-through floor bottom design that created issues in wet weather and other less than ideal conditions. The company also added texture to the flooring and dash areas to speed the cleaning process. Bluetooth speakers can be added for tune-lovers.
For course operators, the RXV can be outfitted the tablet drop down screen at the top center of the windshield area, loaded with GPS data, a food and beverage ordering option, a digital tee sheet, and pace of play monitoring. The carts can also be installed with speed and area geofencing controls to help avoid accidents or hazards such as the occasional pond.
The new Liberty cart model is a direct result of adapting to lithium battery power. All four seats in this cart are forward facing. The arrangement of the seating area could not have been done using the lead-acid battery systems.
I can readily imagine the Liberty carts in use at resort properties with or without golf courses. Real estate property developers could easily offer them for on-site marketing. For communities that permit golf cart use on their street networks, the Liberty should also be appealing for young families, with the front-facing seats giving more safety assurance for young passengers.
Zebra Putters: a bit like a Guinness?
Golf equipment companies come and go, depending on the success of their products and the changing whims of their customers.
Their brand names can live on far longer than the companies who created them, however, if someone thinks the name still has potential in the modern golf universe.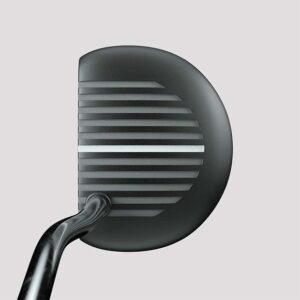 Golf Brands, Inc., of Henderson, NV acquired several popular brand names of the past and actively seeks to exploit what market value may remain.
At the 2023 PGA Show I met GBI owner Simon Millington and other members of his family. We discussed the new re-launch of the formerly popular Zebra line of putters.
"We brought on Austie Rollinson to do the redesign for us, and it was a two-year process," Millington said. Rollinson is a well-respected putter designer with a long history at Odyssey and a string of patents with his name on them.
"He knew what I wanted to do with it. He kept the DNA, but used a more modern shape," Millington said.
Zebras are perhaps best known for the multi-stripe alignment guide on top of the putters. The new design incorporates that iconic look but adds several elements never seen on the originals.
The new models include adjustable weights to affect swing path, along with a milled stainless-steel insert on the club face. Three of the four new models continued the Zebra tradition of attracting golfers who like a straight back/straight through putting stroke, with the fourth model using a modest amount of toe-hang for arc-style strokes.
The putters launched in October, and Millington is pleased with the market's reaction. He quoted his favorite comment from the practice green during Demo Day: "This is like having a Guinness with an old buddy."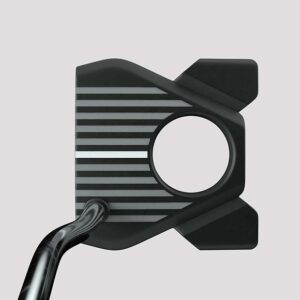 The shaft options come in three lengths: 33, 34, and 35 inches. The AIT3 model, a combined homage to Zebras and the more modern Spider design, is limited to right handers. The other four come in right and left-hand options. Pricing ranges from $219.99 to $249.99 SRP.
GBI's sales at this point are aimed primarily at the direct-to-consumer market, while international and wholesale efforts continue.
Millington said he believed the appeal of the Zebra designs comes with its own age divide. "It's 40 or 39. If you're 40 or older, you remember the Zebra and how popular it was. If you're 39, you wonder about the fuss," he said.
Every brand has its day – until it doesn't.
Delay of game
The April 26 Cape Henlopen High School golf team match came to a lightning-quick halt after three holes – and I mean that literally.
The sudden thunderstorm forced a postponement and restart of the Vikings' tri-match against Hodgson Vo-Tech and William Penn High at Deerfield in Newark, DE.
Local club competition results
The Mulligan's Pointe Ladies played a Fewest Putts game April 26.
Valerie Grib won the first division, followed by Tammy Findlay in second and Christine Allison in third.
Stevie Scale won the second division, with Christine Bielenda taking second and Linda Hunter finishing third.