September 29, 2023
Avery McCrery won the 2023 DIAA Girls Championship May 31 at Baywood Greens. She followed up a one-under par 71 in the first round with a 7-under par 65 in the second, including 18 greens in regulation.
Her 136 total was ten strokes ahead of Boys Champion Win Thomas of Tatnall School. McCrery and her teammates also won the team championship.
The junior at Tower Hill School in Wilmington is nationally ranked among scholastic golfers. She has competed in several significant tournaments, including this year's U. S. Women's Amateur Four-Ball Championship and the Junior North and South Amateur in Pinehurst, NC.
We met June 8 at the putting green of the Seaview Resort, where McCrery was to play a pro-am round at the ShopRite LPGA Classic presented by Acer. She had just returned from Indianapolis, IN after yet another tournament.
Sixteen-year-olds can recover quicker than most of us.
We talked a bit about the DIAA tournament, and our conversation then switched to a discussion about her golf equipment.
McCrery's clubs obviously work well for her, but she never went through a full-bag fitting. "I didn't get everything all at once. I do get everything checked once a year at the True Spec in Naples, [FL] when I'm down there in the winter," she said.
Starting with wedges, she uses two Vokey SM9s – one lofted at 54 and the other at 60 degrees. "We got them a while ago for when I play Bermuda grass, but I haven't played any Bermuda since then," McCrery said with a laugh.
Her Titleist T200 irons run from 4-iron to her 48-degree pitching wedge. "I had cast irons, and then I played forged ones. I love these, and can't go back to cast," McCrery said. "I can hit long irons well. These are bigger than blades, and the faces of these irons give me the best spin rates."
The iron shafts are stiff Dynamic Gold 85-gram weight, while her wedge shafts are NS Pro 95s in regular flex. "I had other, lighter shafts, but they were a bit whippy. I get much better dispersion results with these shafts," she said.
McCrery uses a Titleist TSI2 3-hybrid, set at 18 degrees. She also carries a Callaway Paradym 3-wood, set at 15 degrees. Her Cobra LTDx driver is set at 9 degrees. McCrery said her normal driver speed is typically 96 to 97 miles per hour.
We did not discuss McCrery's putter, an LA Golf SIK model. As she said in an offhand way, "I don't worry about my putting."
As her tee time approached, she headed over to the practice range, which is kept separate with one area for the amateurs and one for the LPGA golfers. McCrery laughed as she told me that the day before she "somehow" ended up among the pros, as her father stood behind her to watch the shots. "I was the only amateur there," she said.
It happened again.
I went to the range about 15 minutes after McCrery, and saw her calmly hitting shots next to Maria Torres, an LPGA golfer from Puerto Rico.
I caught her glance and asked if she decided to ask forgiveness instead of permission.
McCrery was all innocence. "This is where they dropped me off!" she said – and she grinned again.
Skechers: not just a shoe company
Some golf companies rely on licensing arrangements to sell some of their product lines. For example, Callaway-logoed shoes are not built by Callaway. A separate company builds them.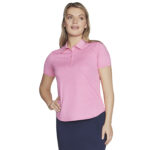 Skechers is one of the largest shoe companies. It also has a golf apparel line but used a licensing arrangement to design and create clothing with the Skechers logo.
That has now changed.
At the 2023 PGA Show I spoke with Lauren Martone, Vice President of Apparel Sales. She said that the company "brought it in again" and is pleased with the results.
Sold in major outlets such as Macy's, J.C. Penney, and Kohl's, the Skechers golf outfits are "very feminine," Martone said.
The nylon/spandex fabric blend skorts and pants use a double-compression waist panel for control, and are "made to fit everybody," she said, in sizes that run from XS to 3XL.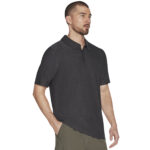 "We're really leaning into the golf/tennis/pickleball space," Martone added.
The men's lines launched two years ago and use small, medium, and large sizing instead of the traditional inch-based dimensions.
In addition to performance fabric designs, Skechers also offers a cotton pique polo for men at $34 SRP.
For colder weather the company sells an Ottoman jacket for $54 SRP for men and $49 SRP for women.
Wormann doubles ace count for 2023
Congratulations to Warren Wormann for his second hole in one of the year Sept. 22 at The Rookery.
Wormann made his first ace on the course's par-3 seventeenth hole Feb. 6. He waited until his birthday to make the second one, and on the same hole no less.
I have not heard which fellow D.A. members signed up to play with him for the rest of the season. ["D.A." is the chosen name for the morning regulars at the Milton club. The initials mean exactly what you might think.]