A tight win and a tight loss
May 12, 2023
This year's Cape Henlopen High School golf team learned once again that the thrill of victory and the agony of defeat can be caused by a single stroke.
The Vikings beat Indian River 174-175 May 9 at Bear Trap Dunes and lost to Sussex Academy 165-166 May 10 at Rehoboth Beach Country Club.
These were the second and third single-stroke matches for Cape this season. The first one was a one-stroke loss to Delmarva Christian April 27 at Baywood Greens.
In the Indian River contest, 2021 state champion Sarah Lydic won medalist honors with a 34 on the Grizzly nine. She also leads all scholastic golfers on the current DIAA handicap list at +1.9.
Tyler Healy finished first for Cape and second overall with a 38. "That was the lowest round I ever shot," he said. "I was in a flow state of mind the whole time. If a bomb went off next to me, I don't think I would have heard it," Healy said with a grin.
Jacob Gabbard shot a 44, second best for Cape. "I felt pretty good," he said. "I stuck to using only irons off the tee, and that helped."
Kingston Davis' 45 was his highest of the year, good for Cape's third best of the day. Dalen Daminger's 47 completed the Viking scoring for the day.
Viking assistant coach Bill Geppert said, "I was just really impressed by the tenacity of the players. They were all ready to play. Our team got to see Sarah [Lydic] and how she went about her business. I think the team appreciated the challenge."
In separate gatherings before the Sussex Academy match, Seahawk head coach Doug Grove and Cape head coach Robert Harrod both warned their teams that the match would be close.
Both were correct.
The Academy's Dominic Piperno and Cape team captain Ethan Mercer posted 39s for co-medalist honors. Davis led the rest of the Viking squad with his 41, followed by a pair of 43s by Healy and Travers Johnson. Nonetheless, some careful card checking confirmed that the Academy team eked out the one-stroke win.
The Vikings' 166 total matched the team's best score of the season, made April 19 against Delmar. It was again Cape's best total since 2018.
Mercer's 39 was also his best score of his senior year. He appreciated the fact that he made it on the team's Senior Day honoring himself, Luke Dennis, and Dru Schneider. "It felt so good to finally get in the 30s," Mercer said. With steady play, he made six pars and three bogeys.
Davis said his highlight of the round was an eagle on the par 5 fourth hole, made with a 40-foot putt. However, on another hole he took a four-putt, and also made a three-putt on yet another hole.
I predict some serious putting practice in Davis' future – in the next few days, in fact.
Healy said, "My short game wasn't as good as it was yesterday [against Indian River]. I also had some struggles with my driver." Johnson said his round was good, with five pars offset by 2 double bogeys.
Harrod said, "Honestly, it was the best golf we've seen all year. It was enjoyable to watch. It was good stuff. I knew it was going to be a close match, and they knew, and it was. I was hoping we could win two one-stroke matches in a row. I was being greedy. We played well. The guys I needed to score well played well, so even if we lost, we still pulled good stuff out of this match. We look solid to have six people in the states now, and I'm excited about that. Just a good group of players."
Delaware State takes second at PGA Works Championship
Congratulations to the Delaware State University women's golf team for its second-place finish May 10 in the PGA Works Collegiate Championship presented by Chase Sapphire.
Texas A&M-Corpus Christi won its third straight title in the event. DSU came in thirty strokes behind in the three-day, 54-hole tournament, held at Bent Brook Golf Course and Shoal Creek Club in Bessemer, AL.
Among the DSU contingent, Amber Pennington took fifth place in the individual standings, with Anna Ferreyra-Heit tied for eighth. Claudia Hofmeister tied for 14th, with Emily Murray in 21st and Estelle Verny tied for 24th.
Golf nets going up
The ongoing construction of the grade-separated intersection at State Route 1 and State Route 16 near Milton includes an item not often seen along Delaware's roads.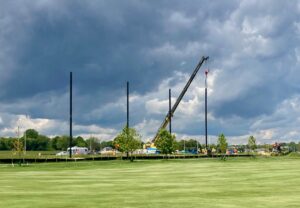 In the last week or so, the contractors began installing several tall poles along the eastern right of way separating northbound Route 1 from The Rookery Golf Club's eighteenth fairway.
The poles are for golf safety netting just in case right-handed golfers with the hooks or lefties with slices hit an awful shot.  
The poles and netting will run for over 300 yards of the long par five, beginning near the hole's tee boxes and ending as its fairway turns east toward the green.
This protective measure for motorists against wild-swinging golfers was also installed decades ago along the east side of Route 1 near its Route 896 interchange north of Odessa.