Delaware Junior Golf Scholarships awarded
July 22, 2022
The Delaware Junior Golf Scholarship Fund awarded five golfers with the first of four years of scholarship stipends at a July 12 luncheon at Rehoboth Beach Country Club.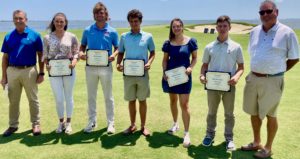 Founded in 1986, the Fund has supported 167 students with over 1.5 million dollars, beginning in 1988. Jerry Medd, Fund president and son of co-founder R. Gerald Medd, addressed the recipients, their parents, and others at the award ceremony on the bayfront lawn of the clubhouse.
The Delaware State Golf Association assisted the Fund for many years by helping with publicity and providing linkage at the DSGA site for the application process. That arrangement continued after the recent merger of the DSGA with the Golf Association of Philadelphia.
Medd said nearly 20 applicants filed for this year's awards, about the same number as in past years. "It's amazing that's how few we get. We've helped a lot of young people get through their college careers," he said.
Hannah Lydic of Ocean View, DE won the Robert McCurry Award, worth $7,000 per year or $28,000 total. The Sussex Academy graduate won the DSGA Girls Championship in June. She will attend the University of Richmond.
McCurry was one of three co-founders and a long time Toyota executive. In the early days of the Fund, he brought Toyota-sponsored pros such as Chi Chi Rodriguez and Mark O'Meara to well-attended clinics at RBCC, complete with a raffle of a donated Toyota vehicle.
Evan Barbin, a graduate of Red Lion Christian Academy who finished second in the DIAA Boys Championship in June, won the R. Gerald Medd Award. He will receive $6,000 per year ($24,000 total) and will attend Liberty University.
Kayla Brosius of Magnolia and Anthony Ciconte of Wilmington won the Ron Barrows Award, each worth $4,500 per year ($18,000 total). Barrows, the longtime head golf pro at RBCC, was the Fund's third co-founder.
A Caesar Rodney graduate, Brosius finished 9th in the DIAA Girls Championship in June and will attend Niagara University in New York. Ciconte, who graduated from The Tatnall School near Wilmington, finished 5th in the DIAA Boys Championship. He will attend West Virginia University.
Seth Reynolds, a four-year member of the Cape Henlopen High School golf team, won the James Powell award worth $3,000 per year ($12,000 total). Powell was also a longtime Fund supporter. Reynolds will attend North Carolina State University this fall.
The DJGS Fund's current primary source of revenue is its popular golf tournament, scheduled this year for August 29. "When we have our tournament, a number of the recipients come back and play in it. It's sold out and we have a waiting list," Medd said.
Several Cape Henlopen Viking golfers have earned these scholarships, including Dane Palmer, Nolan Brown, Matthew Zehner, Jack Ashby, J. J. Oakley, Christina Wagamon Harvey, Tyler Witman, John Purple, Brett Hertel, Jason Hastings, Samantha Purple, Devin Medd, Madeline Baptiste, and Rachel Hagan.
Brockstedt qualifies for national PGA
Congratulations to Sawyer Brockstedt of Rehoboth Beach for her fine performance at the Philadelphia Girls Junior PGA Championship July 11, at Laurel Creek CC in Mt. Laurel, NJ.
She shot 69-77 in the one-day, 36-hole event. Brockstedt played two more holes in sudden death, defeating two other golfers for her second-place finish.
The day's result qualified her for the 46th Girls Junior PGA Championship at Cog Hill Golf & Country Club near Chicago, IL, scheduled for August 2-5.
It's not only what you do but what others don't
Kevin McTigue is an active league golfer at American Classic Golf Club, and a past hole-in-one maker at the popular course.
On a recent Tuesday morning, he was the last golfer of the day to try for the closest to the pin money on the par 3 fifth hole.
His ball stayed on the green – by about two inches, he said.
Nonetheless, it was the day's best and only ball to make the green, at only 38 feet 5 inches from the hole.
That was all that he needed.
Local club competition results
Rehoboth Beach CC held its Ladies Senior Club Championship July 20, with Dale Lipnick winning the Overall Champion spot.
Suzanne Moore was the Overall net winner, with Elise Coar winning the first flight and Bailey Scheurer winning the second flight. 
The Kings Creek CC Ladies 9-Hole group played a Stableford game July 19. In the first flight, Carolyn Horn won first place, with Sandy Neverett in second and Marie Murray in third.
Beth Cohen won the second flight, followed by Deb Chase in second and Judy Rayner in third. Pam Cranston took the third flight, with Patricia Davis in second and Deb Hinderer in third. 
The Mulligan's Pointe Ladies 18-Hole group played a fewest putts game July 19. Karen Feuchtenberger took first, with Rhetta Rose Frampton in second and Kathy Hudak in third.
The Kings Creek CC Ladies 18-Hole group played a 1 gross and 1 net better ball game July 14. Linda Kelleher, Sheree Mixell, Carolyn Ortwein, and Jean Chlastawa won first place.
Donna Deely, Rae von Doehren, Margaret Moore, and Joanne Yurik (blind draw) finished second. Sharon Denny, Faye Slatcher, Susan Griesemer, and Alicia Polsky took third.