Green-punching season
August 25, 2023
Some Cape Region golf courses are now busy with greens aerification, with others soon to follow.
The Rookery management did a bit of a twofer Aug. 21. The club aerified 18 greens and repaved the customer parking lot the same day.
Kings Creek Country Club and Baywood Greens also planned their greens aerification for the same week. American Classic Golf Club's greens punching is scheduled for late September. Heritage Shores Golf Club is holding off until Oct. 23-26.
Aerifying is typically a twice per year event in the mid-Atlantic, usually early spring and late summer/early fall. It is a necessary part of maintaining golf course turf in the best possible playing condition year-round.
A common technique punches holes with a dedicated machine, creating thousands of turf plugs that are gathered up and removed. Top dressing with sand fills the plug spaces and coats the green with a thin sand layer.
The holes create breathing and moving space for the remaining turf, improving drainage and reducing the chance of grass-killing diseases. With any luck, the post-aerification weather stays warm and pleasant enough for a quick recovery.
As for putting bumpy greens after aerifying, several golfers I know stop counting any putts after two per hole – at least for a week or so.
Chervo: Italian golf fashion
 An Italian apparel maker is celebrating its 40th anniversary and the fact that the 2023 Ryder Cup will be played in Rome, with its fashion-forward clothing an Official Licensee for the event.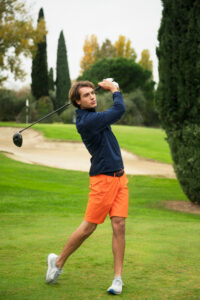 Chervo began operations in 1982, founded by two brothers and originally focused on ski wear.
One brother, Peter Erlacher, had been a member of and coach for Italy's national ski team.
Jennifer Schnipper, the company's US marketing director, said during our chat at the 2023 PGA Show that Chervo moved into the golf sector in the 1990s.
The company's fall/winter lines take advantage of its ski wear past, using synthetic down and stretchable fabric for both warmth and freedom of movement.
As one expects for a high-end fashion line, each year Chervo's designers create "hand-drawn designs that are not repeated," according to Schnipper. "Italian heritage is stressed.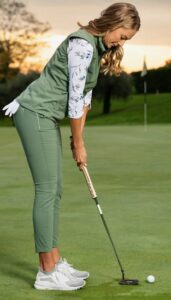 For example, the olive-colored items evoke Tuscany, and the fall/winter lines for this year are Venice-inspired," she said.
In the United States, Chervo golf apparel is sold at high-end green grass shops in the Northeast, California, Florida, and the Southwest.
In addition, the lines appear in non-golf specialty stores.
The company's designs also have a presence on the professional tours, including the PGA Tour's Kurt Kitayama and Jenny Shin of the LPGA.
The Marco Simone Golf and Country Club hosts the first-ever Ryder Cup in late September.
Chervo's Ryder collection can be found at select pro shops as well as the company's website (www.chervousa.com).
Delaware Beach All-Stars earn PGA Jr. League Section Championship
Eight local juniors are working together toward a national team championship held by the National Car Rental PGA Jr. League.
In mid-August the Delaware Beach All-Stars, coached by PGA Pro Chris Brosius, won the Philadelphia Section Champions 13-Under category. The winning team included Ben Fifer, Sam Metz, Luke Peyton, Brody Rollins, Sahil Shajwani, Rory Spindler, Patrick Thomas, and Chase Thompson.
The Section championship is the first leg toward reaching the Nationals. The team next travels to Kingsmill Resort in Williamsburg, VA for the Regional Championship Sept. 1-3. Regional 13U Champions meet for the Nationals Oct. 4-8 at Fields Ranch West at PGA Frisco in Frisco, TX.
The PGA Jr. League, a program run by the PGA of America, puts aspiring golfers on club-based teams in scramble-format competitions, with numbered jerseys and PGA Pro coaching opportunities.
Time for First Tee – Delaware fall programs
Fall registration is now open for The First Tee – Delaware's on-course programs at several Cape Region courses.
Several sessions are dedicated to age groups, either 4-6 or 7-18.
Participating Cape Region clubs include American Classic GC in Midway, Bear Trap Dunes in Ocean View, Rehoboth Beach CC, Plantation Lakes G & CC in Millsboro, and Hooper's Landing GC in Seaford.
For more information go to firstteedelaware.org or call 302-384-8759.
Local club competition results
The Mulligan's Pointe Ladies 18-Hole group played a Crier's game Aug. 22.
Valerie Grib won the first division, with Sue Ahern in second and Tammy Findlay in third. Rita Mcconnell won the second division, followed by Donna Dolce in second and Janece Hausch in third.
The Kings Creek CC Ladies 18-Hole group played a Low Putts game Aug. 17.
In the first flight, Sally McGovern won first place, with Lori Griggs in second and Eric Reid in third. Joanne Yurik won the second flight, followed by Linda Eicher in second and MaryAnn Noonan in third.
The Kings Creek CC Ladies 9-Hole group played a 1 best ball of 4 game Aug. 15, won by Dot Filbert, Melissa Soper, Barbara Morales, and Nancy Derrickson.
Lynn Sweeney, Deb D'Orazio, Francie Young, and Juanita Wilson won a tiebreaker for second place over third place finishers Marie Murray, Hope Lavachia, Marian Keyes, and Donna Romer.