LPGA founder Betsy Rawls, 1928-2023
October 27, 2023
World Golf Hall of Famer Elizabeth Earle "Betsy" Rawls, 95, a founding member of the Ladies Professional Golf Association, died Oct. 21 at her home in Lewes.
A Phi Beta Kappa graduate of the University of Texas, Rawls won 55 professional golf tournaments including eight majors, beginning with the 1951 Sacramento Women's Invitational Open and the U.S. Women's Open that same year. She topped the tour's money list in 1952 and 1959 and won her last major, the LPGA Championship, in 1969. Her last tour victory was the 1972 GAC Classic in Tucson, AZ.
While still playing on tour, Rawls was the president of the LPGA in the early 60s. Rawls was among the first group of inductees into the LPGA Hall of Fame in 1967.
Rawls also worked for the LPGA. She successfully ran the former McDonalds LPGA Championship from 1987 through 2004, including the period when it was held at the DuPont Country Club in Wilmington. She also provided significant service to the LPGA regarding its sponsor relations. In 1996 Rawls received the Bob Jones award, given by The United States Golf Association for distinguished sportsmanship in golf.
Cathy Harbin, a longtime friend of Rawls and her companion Janet Davis, told me Rawls played recreational golf for decades after her playing career ended. Harbin said Rawls obtained a new set of golf clubs at age 90 and immediately reached out to talk with her friend and fellow LPGA Hall of Famer Kathy Whitworth all about her new set of sticks.
Rawls was a member of Kings Creek Country Club. Harbin said she continued to play golf until the Covid epidemic in 2020, when she was 92.
"She enjoyed a nice quiet home life," Harbin said.
Rawls maintained a low profile during her years in the Cape Region. In 2017, as a board member of the Rehoboth Beach Film Society, I reached out to request she address and answer questions from a sold-out audience at the Society's screening of "The Founders," the fine 2016 documentary about the origins of the Ladies Professional Golf Association.
Through an intermediary she gracefully declined the opportunity. My understanding was that no other interviews would be granted if requested.
I respected those responses, and her.
Windy winner for Harvard at 10th Annual Lady Blue Hen Invitational
Strong winds provided significant challenges to the sixty-six collegiate golfers competing in the 10th edition of the Lady Blue Hen Invitational Oct. 21-22 at Rehoboth Beach Country Club.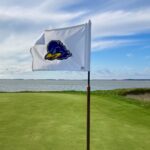 The 54-hole, eleven-team event began just as morning rains disappeared before Saturday's first round. The Weather Service wasn't kidding about the gale warnings, however, with the nearby whitecaps on Rehoboth Bay remaining ever-present.
Harvard University shot past the UD team in the third round Sunday, which began the last round in first place. The Crimson squad's 880 total finished six strokes ahead of the University of Pennsylvania Quakers and seven strokes better than the Lady Blue Hens.
Alisa Khokhlova won individual medalist honors for Delaware, a stroke ahead of her teammate Oihana Etxezarreta. Marissa Malosh finished third for Delaware at T-9, with Lilia Henkel tied for 19th.
Delaware State University's Claudia Hofmeister finished best for the Lady Hornets at T-17. Estelle Verny finished T-40, with Chloe Malgas-Kelpin at T-47 and Julie Gauvin at T-59.
The order of finish went as follows: (1) Harvard, (2) Pennsylvania, (3) Delaware, (4) Quinnipiac, (5) Rutgers, (T-6) Navy and Columbia, (8) William & Mary, (9) St. John's, (10) Delaware State, and (11) Seton Hall.
UD head coach Patty Post noted the 10th anniversary of the "Battle at the Beach" and thanked the club and its over 50 member-volunteers who assisted: "I think it's a great thing. We've been very welcomed here at Rehoboth Beach Country Club. They take great care of all of us and all the players. They have a wonderful volunteer group. Every year they come back to help us out and cheer the women's golf teams on. We really appreciate it."
This year's tournament included a special clinic put on for RBCC members by the entire Blue Hen squad after the volunteer training session Thursday evening. Post said her players demonstrated a variety of shots, while also discussing how they prepare and play.
Mizuno Golf
Some golf equipment companies create a huge first impression with a single club type and expand from there.
Think of Karsten Solheim's first Ping putter, or when Callaway's Big Bertha driver first hit the market.
Mizuno initially captured the hearts of avid golfers worldwide with the quality and performance of its irons. The Japanese company continues to enjoy an outsized market share in that part of golf.
In the last few years, however, Mizuno attracted significant new attention with its developing series of fine drivers, fairway woods, and hybrids.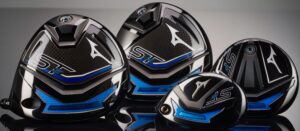 At the 2023 PGA Show I met Jeff Crawford, Associate Marketing Manager in Mizuno's golf division. We last talked by Zoom during the 2021 "Virtual PGA" show, so it was nice to meet face-to-face again as we did in 2020.
We started with the new ST-Z 230 and ST-X 230 drivers, whose design elements traced back to the ST-190 model about four years ago. The new Z and X clubs earned serious raves in online golf reviews and other publications for their performance in testing.
The Z model features a backweight on the Z axis (front to back, center of club) that promotes straighter to slight fade results. The X model's weight plug sits closer to the heel side, which in most other models means it promotes a draw.
However, as Mizuno engineer Chris Voshall said during several YouTube interviews, the X model is not aimed at chronic slicers. The weight location makes it a bit easier for better golfers to match the ball's flight to their desired trajectory.
According to Crawford, about half of the professional tour players currently using Mizuno drivers use the X model – and they don't need help with a slice.
The new CorTech chamber on the bottom of the club head is a major change from past designs. An actual steel I-beam is embedded in bright blue TPU material a short distance from the club face. It flexes and rebounds at a different rate than the surrounding structure, creating improved results from mishits low on the face.
For slow to moderate swing speed golfers, Mizuno also offers a new PLTNM version. The total club weighs 30 grams less than the regular X or Z. The PLTNM also uses a longer club shaft to help promote more speed and longer distance.
The fairway woods and hybrids also use the new CorTech feature. The ST-Z 230 hybrids replace the slightly smaller CLK line that was Mizuno's primary hybrid model for several years. The ST-X 230 hybrid has a non-adjustable bonded hosel and provides a built-in slight draw bias, according to Crawford.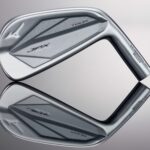 Most ST model shafts can be adjusted by up to 2 degrees of loft changes in both directions. There are several no-upcharge shaft options, but others can certainly be added during a custom fit.
The Z and X drivers are competitively priced at $499.00 SRP, with the PLTNM model costing a bit more.
We also checked out the new JPX 923 Tour irons, sold in seven-piece ($1,313 SRP) or eight-piece ($1,500 SRP) sets. They continue the Mizuno tradition of blending beauty with high-end performance among its iron options.