Titleist returns to PGA Show in a big way
November 3, 2023
The return of Titleist to the 2023 PGA Show in Orlando, FL after skipping the 2022 edition must have been a relief to the Show's owners and operators.
One of the biggest names in golf, the Massachusetts company always rented one of the largest exhibit spaces at the event. Dozens of Titleist staffers with their conspicuous cream-colored sportscoats were equally impressive.
As if to show their appreciation for Titleist's return, thousands of club pros flocked to the company's huge exhibition space to check out the latest offerings. The fact that several of Titleist's 2023 club models were introduced months before did not seem to make a difference.
I first met Luke Epp, a former academic All-American on the Purdue University golf team. He has been with Titleist for a few years after stints at Cobra and Callaway. As the company's Director of Product Marketing for Metals and Irons, he was well-suited to describe the new hybrids and fairway woods.
I have a personal interest in these clubs, as an owner of a Titleist 4-wood and three Titleist hybrids.
Epp discussed the TSR1 hybrids and fairway woods. Designed for golfers with moderate driver swing speeds (under 90 mph), these clubs use a 15-gram lighter shaft than the TSR2 or TSR2 lines. The shafts are also a half-inch longer, adding a physics-based speed boost. In addition, they feature a high balance point, helping to produce a higher (and possibly longer) carry.
"The TSR1 hybrid also has a larger profile, almost a scaled-back 7-wood," Epp said. The draw-promoting heads come in four lofts: 20-, 23-, 26-, and 29-degrees.
The TSR2 hybrid extended the blade length a bit compared to the last model, which Epp said "provides a little more speed. The CG is also moved a bit, for a more neutral flight. It's shaped a bit like the old 818s."
Epp said the TSR2s also have a "very low, deep center of gravity," promoting a higher, more forgiving flight. The heads come in 18-, 21-, and 24-degree options, but as with prior Titleist clubs, adjustable hosels add more loft options.
The TSR3 hybrid and fairway wood include a performance aid not found on the other two models. A short distance back from the club face, a weight slug can be placed in five different slots on the toe to heel axis.
As Epp noted, "More consistent hitters benefit more from being able to move these weights than other golfers." When the weight is placed in line with where the golfer tends to hit the clubface, twisting is reduced. For those seeking more customization, a weight kit is available.
Coming with the company's SureFit hosels, the TSR3 head lofts range from 19- and 21-, to 24-degrees.
As for shaft options, Epp said they offer four stock designs based on predicted trajectory preferences from low to high. Custom fitting is an option, but Epps said that happens far more often with Titleist's irons. He said 70% of their irons are fitted, while only 30% of their woods sold go through that process.
I also chatted with Titleist Golf Ball Product Director Frederick Waddell about the company's 2023 models of the Pro V1 and Pro V1X golf balls. He also has a competitive history as a member of the Denison University golf team.
These two ball designs have long led the way for Titleist in maintaining market dominance in the ball category, in part due to the regular infusion of small changes in the balls' design.
Waddell said the 2023 innovations tightened up the dispersion characteristics of both models, because they both spin less on driver hits. The Pro V1X flies higher and spins more on approach and greenside hits than the V1, thanks to differences in dimple patterns.
He was curious about my longstanding choice of Pro V1X balls. I told him it had everything to do with shots to the green from 40 yards out, because of the spin I can generate with partial shots. In addition, I prefer a harder feel at impact while putting with my old-style, no-insert Ping B60.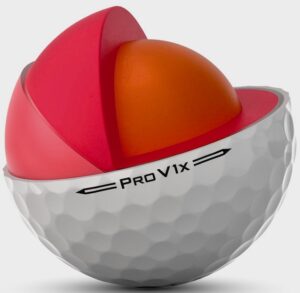 Waddell's immediate reaction was to say PGA Tour pro Jordan Spieth and I are "exactly the same" – at least in preferring the V1X. He said Spieth also uses the Pro V1X, and if he tries anything with a softer feel, like the Pro V1 or other balls, he tosses them after only a few putts.
Spieth is a far better golfer and uses a far more modern putter than I do, considering that my B60 is half as old as he is – but I know where he's coming from.
We also discussed how higher-handicapped golfers benefit from using higher-spinning balls like the Pro Vs compared to low-spinning "distance balls." Waddell said Titleist always advises "working back from the green toward the tee in determining which models work best for you."
It is yet another compelling argument in favor of going through a fitting process, as with clubs.