December 14, 2007
Dear Santa:
If you ask around, I think most of the folks who know me would say I've been a particularly good boy this year.
With that in mind, and with Christmas fast approaching, I'd really appreciate it if you could make sure I don't receive some golf gifts this year—especially the ones on this list.
Butt-Head Golf Club Covers—Lots of folks like special head covers for their drivers and fairway woods. Sometimes they feature the head of an animal, like the Caddyshack groundhog.
Apparently somebody thought that the other end of these animals needed to be highlighted instead, so they came up with covers like this tail end of a cow.
It could use some serious milking.
On sale for $24.95 at TheGolfCollection.com, the ad copy for this bizarre item comes close to being correct:
"Tasteful? Maybe not. Funny? Yes."
Actually, no.
Talking Beer Bottle Opener—Some things just have to be experienced completely before you realize how bad they really are.
This $7.99 bottle opener, for example, plays a series of allegedly yock-filled comments as soon at it touches a bottle cap:
"Oh! Oh! Look at that slice!
Can I have a Mulligan?
No wait, can I have a beer?
Fore! "
Oh, my sides.
That's bad enough, but you really should listen to the recordings online at Golfun.net to hear just how awful this gift sounds.
It's just wretched.
The Golf Floor Lamp—At $289.99 apiece, this lamp uses golf clubs as its three-legged stand. It also really says something about the person who owns it.
It says, "Sure, it's schlock—but it cost a lot of money!"
The ad copy at The Golf Collection makes this point with a little more grace:
"This lamp tells the world that the owner is an ardent golfer who has as much taste as they do fervor for the game."
They also may not realize how cruelly correct that statement really is.
The POPaPUTT Golf Gag Gift–Some of these gifts are just too dangerous, if you ask me.
For example, this spring-loaded POPaPUTT thing is supposed to be slipped into a golf hole, just before a playing partner attempts to make a crucial putt.
The folks at Golfun.net describe what happens next:
"[W]atch the incredible shock on their faces when the ball pops right back out of the hole!"
What the writer doesn't tell you is how your former golf buddy will then chase after you with his putter, because you just cost him a significant bet.
Even at $8.99, this is a gag I would like to avoid, if it's all the same to you.
Ceramic Serving Ware—I came across this Chip & Dip Platter and Salsa Bowl at The Golf Collection, and was deeply impressed at the utterly shameless ad copy:
"Beautiful, hand painted, original art. [T]he … ceramics are microwave and dishwasher safe. When not being used for your latest golf gathering your original artwork can be displayed."
Let's break this down, shall we?
I can agree it is hand-painted, and probably original.
I can also agree that they are almost certainly microwave and dishwasher safe.
Even so, I'm not up to agreeing that this stuff is beautiful, or that I would display it anywhere in my house, under any conditions, even if it did cost $59.95.
Finally, Santa, I have enough Christmas ties already.
Therefore, I don't think giving me a Golfing Santa with Reindeer Caddy Tie would be a good idea.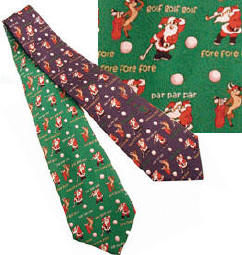 The folks at The Golf Collection say that I should "Have some fun at work this holiday season," and for only $24.99 apiece these 100% silk ties are supposed to provide it.
I don't think so.
Thanks again for reading this special Christmas gift letter, Santa, and say hello to the elves for me.
Your golfing friend,
Fritz