December 9, 2011
Dear Santa:
Maybe it's the lingering recession this year, but it seems that the folks offering Christmas gift items for golf lovers are more desperate than ever.
I'm not trying to be cruel, but there are some really amazing golf gifts out there. I don't mean that in a good way. So once again, I would really appreciate it if you would avoid giving me any of these items.
For example, the Golf Bag Aquarium on sale at golfsmith.com is a stunning combination, don't you think?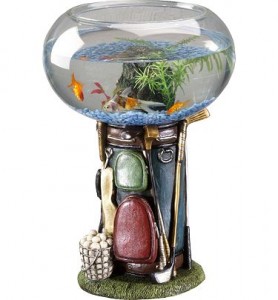 There's a clear glass bowl sitting on top of a golf bag and bucket of balls, made of the finest resin.
It's fifteen inches high and a foot deep, and so it will be hard to ignore, no matter where it's stashed in someone's house—and at $79.99, the makers also show a touching faith in their fellow man.
Right up there in the questionable taste department is another golf bag replica, this one made of wax.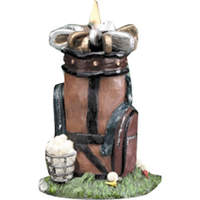 According to golfsmith.com, this $24.99 candle, nearly seven inches high and exactly matching a golf hole diameter in width, is allegedly "perfect for any décor."
Seriously?
I also do not believe I will make my playing partners "envious" by putting the Bling Headcovers on my driver and fairway woods, available at golfsmith.com.
The stretchy fabric is dotted with jewels, and the $27.99 covers are available in bright red, bright blue, a Shrek-like green, and another color that Ron Burgundy might like.
There's no way that these things will "add much needed flair" to my golf bag. More likely, I would receive much abuse, none of which is necessary.
As in prior years, there are several attempts at lame golf humor also on sale.
Take these Golf Pint Glasses, on sale at gifts.com for $6.99 apiece. The large print on one glass says, "I Got a Hole in One." The small print between those words fills out the rest, for a complete sentence of "I Got a Beer on Every Hole and Put 5 Balls in One of the Ponds."
Oh.
My sides.
Stop the hurting.
Or take a look at the Par-Scription golf ball set, also available at gifts.com. The package features six Top-Flite golf balls in two amber prescription drug-type vials. The prescription is written by "Dr. Myrtle Beach".
The whole shebang is packed into a white pharmacy bag with matching prescription label—all for only $17.95. When you know that Top-Flites sell for about a dollar a ball at Walmart, you also know that someone's hoping for a big payoff for all that fun extra stuff.
Speaking of good times, Fansedge.com is offering a Penn State Nittany Lions Official NCAA-Licensed Golf Towel for $19.99.
Maybe no Penn State towels of any kind this year, okay?
Someone also thinks that golfing grandparents are total suckers, it seems. That's the best way I can explain the golf-themed Layette set for newborns sized 0 to 6 months, offered for $24.95 in machine-washable 100% cotton.
The ad copy at gifttree.com suggests that the new baby will be "the cutest kid in the clubhouse" when outfitted in a "soft argyle print bodysuit with white sleeves, white back and bottom, secure snap closure, matching argyle tam with pom-pom accent, and white booties with fluffy, sky-blue pom poms."
Perhaps not.
Speaking of clothing, if you see the Pajamagram Company ad for the Tee Time Pajamas for Men, don't think of me.
It's not just the golf-themed print appearing on the green pants part of the ensemble, available for $45.99. I'm also deeply unimpressed by the ad copy claiming, "After 18 holes, there's no better way to kick back, relax, and get 'fore tee winks' than with these pajamas."
There simply has to be a better way, in all honesty.
Thanks again for your thoughtfulness, Santa.
Please say hi to Mrs. Santa and the elves for me.
Your friend,
Fritz