September 9, 2016
I traveled to Springfield PA for this year's U.S. Women's Amateur, held at Rolling Green Golf Club Aug. 1-7. Two days of 18-hole stroke play determined the final 64 players for the match play rounds thereafter.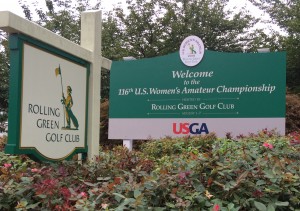 Seventeen countries and 32 states were represented, with ages running from 11 to 55. The average age of the competitors was just under 19, and most players looked it. College logo golf bags were visible throughout the beautiful, hilly layout.
For the first day's medal round, I followed a group that included significant experience, recent stellar college play, and a precocious high school junior.
Meghan Stasi, 38, originally from Voorhees, NJ but now a restaurateur in Fort Lauderdale, FL, is a four-time winner of the USGA's Women's Mid-Amateur Championship. Stasi played in the 2008 Curtis Cup, and won several Florida Women's Amateurs and Mid-Amateurs.
Sathika Ruenreong is from Ohio, and just graduated from the University of Toledo. She was a four-time first-team All-MAC golfer for the Rockets, posting several scoring and win records. She also played in the 2016 LPGA Marathon Classic.
Kaitlyn Papp, 17, is in her senior year at Lake Travis High School in Austin, TX. She was part of the winning team in the 2016 U.S. Women's Amateur Four-Ball Championship. She is already committed to the University of Texas, a 30-minute commute from home.
Off the tee, there was little to distinguish between three golfers, except that Stasi usually outdrove the other two. The amazing thing was that every drive from each of them found the fairways every time.
Stasi had more trouble reaching the green, and some short approaches took their toll. One landed in deep rough a few yards from the uphill 4th hole, forcing Stasi to plow through thick grass while standing precariously in the side slope of the adjacent bunker. Her shot popped out, but then rolled downhill 20 yards away from the green. That led to a double bogey.
Stasi had another double a few holes later, on a challenging uphill par 3 in swirling winds. She also had some fine birdies, however, including one on the par-3 16th.
Stasi also suffered a penalty stroke on the 12th hole. Stasi's ball moved after she addressed it for her birdie attempt, and she immediately called the rules official over. The penalty stroke converted her two-putt par into a bogey.
Ruenreong played well, highlighted by an approach on the 156-yard par 3 third that finished a foot from the hole for an easy birdie, and another birdie on the 499-yard par 5. Nonetheless, a few bogeys and a double bogey on the 6th led to a 73. After the round, she said, "My game was pretty decent today. I had the one big hole, but then I had a couple birdies to make it up."
Papp, the youngest player, was also the steadiest, with seventeen pars and a single bogey. "I felt my full swings were pretty good, especially my driving. I kept it in play, and my ball striking felt pretty good. I couldn't get any putts to drop," Papp said after the round.
Papp knew about Stasi's amateur record, and met her for the first time just before playing. "It was neat. I've heard of Meghan Stasi for a long time. She's a great amateur player. Playing with her was pretty cool. She's very nice."
Stasi chatted briefly about her round and her group. "I hung in there. I guess it could have been worse. It was a great group of players, so it was a nice time."
As for playing with golfers far younger than her, Stasi said, "That's what it is these days, everywhere I play, except for the mid-ams. Which is fine, I'm used to it, " and then she grinned broadly.
Stasi's 79 tore up her chances to make the match play round, and her second round 78 put her in a tie for 135th among the 156 competitors.
Ruenreong posted a 77 in her second round, finishing three strokes out of the nine-player playoff for the last five spots.
Papp matched her first round 72 with another 72 in the second, earning her the 48th spot in the match play cycle. Unfortunately, she lost after 20 holes in her first match the next day.
Two Big Fundraiser Tournaments Coming Up
Two of the biggest fundraiser golf tournaments in the Cape Region are soon upon us.
The 39th Annual Harry Derrickson Memorial Golf Tournament supports the local Meals on Wheels program, and takes place Sept. 18-19 at Rehoboth Beach Country Club. Tickets for the opening night dinner and silent and live auction on Sunday night are available for $95. For $195, golfers can go to the Sunday celebration, and then begin play at RBCC at 8:00 a.m. on Monday, Sept. 19.
For more information, go to beachmeals.com or call 302-645-7449.
The 17th Annual Jean and Joan Cancer Fund Golf Tournament takes place Sept. 26 at Kings Creek Country Club. It supports the Tunnel Cancer Center of Beebe Healthcare. Golfers' entry fees ($175 single, $700 foursome) cover green and cart fees, lunch, a memorial gift, drinks on course, and dinner with a live and silent auction.
For more information, go to beebemedicalfoundation.org/2016-golf-events, or call Vicki Tull at 302-245-9173.
Demo Day at Rookery South
Rookery Golf is hoping the storm season is finally over, so they can go ahead with Demo Day. It is now set for Sept. 10 at the South Course, from 11:00 a.m. to 3:00 p.m.—weather permitting.
Local Club Competition Results
The Sussex Pines Ladies 18 hole group played a Stapleford game Sept. 6. Dee Prilaman won first place, followed by Brenda Lewes in second and Sandra Harrison in third.
The Kings Creek Ladies 18 hole group played a Beat the Pro Scramble team event Sept. 6. Marilyn Hewett, Jennifer Falcone, Carol Simon, and Gail Petren won first place. Diane Herndon, Dorrie Spilman, Carolyn Ortwein, and Kathy Nave took second, while third went to Anita Pettitt, Nancy Froome, Nathalie McGregor, and Joanne Yurik. Ruth Lauver won closest to the pin.