March 1, 2019
Rob Oppenheim's glass slippers look a lot like golf shoes.
Last fall the PGA Tour and Web.com Tour player had a real Cinderella moment, thanks to the Salted Venture Company of Korea.
And yes, there's a story there – not quite a fairy tale, but close.
You might have seen a certain American company's advertisements for its orthotic shoe inserts. Folks stand on a sensing plate and can see a graphic display showing where their pressure points are, along with a recommendation about which insert to use.
Imagine having something like that in your golf shoes, so you could tell at a glance whether you are making the correct weight shift during your swing.
That is what Salted Venture developed with its Smart Shoes. The Korean outfit is in a partnership with Samsung Electronics. Many of the new company's principals worked there before joining the new start-up.
The soles of the shoes carry sensors at critical points, with the electronics powered by coin-sized batteries fitted inside. The batteries can last for up to 20 hours of continuous use.
Sensor data are uploaded via Bluetooth to an app that displays the entire swing sequence. The pressure changes are shown in a color-based display, as well as a percentage read-out. The app works with the Android or IOS operating systems.
Golfers and their coaches can immediately determine if a proper weight shift has actually occurred and to what extent. The color scheme display shows if a golfer is placing too much pressure on the heels or front of the feet, either of which can be fatal to a good result.
At the 2019 PGA Merchandise Show I met Luke Lee, the company's vice-president, who told me that golfers "love it." He said the shoes are a great alternative to pressure mats, especially in a teaching environment.
While talking with Lee I also met Brian Mogg, a highly respected golf teacher and coach in Orlando, FL. His students have won over 20 high-level professional golf tournaments, including Y.E. Yang's triumph in the 2011 PGA Championship.
Mogg was effusive in his praise for the product, and put me in touch with Oppenheim, one of his students.
Oppenheim was on his way to Sarasota, FL for another Web.com tournament when we talked.
"I was with Brian and we were talking about how to improve my footwork. I've always been a handsy kind of player, not really thinking about my feet, and nothing was clicking. Then Brian had me try on these shoes," he said.
"After I put them on we could immediately see I had almost all my weight on my left heel at address. You can't see that by just looking at the player," Oppenheim said. "From there, Brian and I were able to work on using the ground better, to help give me a much better weight distribution. I can go from left toe to right heel on the backswing, which is what's supposed to happen," he said.
Since trying on these "slippers," Oppenheim Monday-qualified for a PGA Tour event in Las Vegas, and more recently had a fourth place finish in a Web.com tournament in the Bahamas. "Golf's always a work in progress, but in the long run these helped me be on the path I need to go," he said.
Considering the importance of the weight shift in the golf swing, these shoes can be a huge help for golf instructors and their hopeful pupils.
Seems fitting, if you can excuse the pun.
Zero Friction
When I first wrote about Zero Friction a few years ago, the emphasis was on the one size fits all golf gloves that came in multiple colors and with optional logos from favorite sports teams.
Since then the company expanded its offerings to include golf balls, most recently their Spectra brand, in six matte-finish colors plus white. I asked Chris Cavallari, the senior vice president for sales, if folks could actually see the blue golf balls out on the course. He assured me they could, and said the balls are actually easy to track while in the air.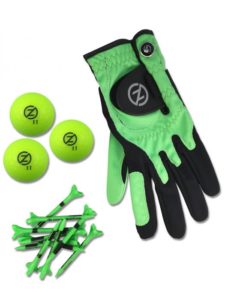 Zero Friction does a lot of business off-course at places such as the PGA Superstores, in addition to the green grass pro shops where many of their items are sold, such as The Rookery's north and south locations. They also produce specialty items for tournaments or other large-scale events.
Cavallari was especially proud of their new Spectra Supertubes, which retail for $24.99. The tube includes ten Zero Friction 2 3/4" 3-prong tees, three Spectra balls, and a universal fit glove.
"When some people see the tube for the first time, they think there's a towel on top," Cavallari said. "They really like seeing the glove in there." The success of this item was a surprise. "We projected selling 10,000 the first year, but we sold 50,000," he said.
Perhaps they should not have been so stunned. As a gift item, it covers three bases at a reasonable price – and with the variety of color schemes, it's also hugely popular with junior golfers.