March 8, 2019
During your next few rounds of golf, count the number of times you use each club in your bag. If you're anything like the typical golfer, you will use your putter for about 35-40% of your total strokes.
The second most-used club will most likely be one of your wedges, and not your driver. That's because most players can't reach most greens in regulation, and therefore rely on a trusty wedge for the chips and pitches that make up a large part of their total game.
Cleveland/Srixon and other club makers are keenly aware of this fact. The Cleveland brand has been a major leader in the wedge category for decades. Its 2019 line of short clubs should help keep that reputation intact.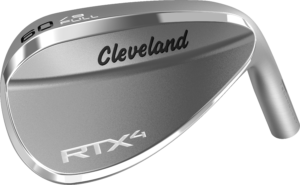 At the PGA Merchandise Show in Orlando, FL, I met with product manager Zack Oakley (no relation to the golfing Oakleys of the Cape Region). We spent our time looking at the new RTX-4 wedges, first introduced last fall.
The wedge faces include additional milling in addition to the traditional grooved lines. Oakley said the Rotex laser-cut milling "creates the maximum face roughness, right up to USGA specifications." As he explained, the combined grooves and tiny millings "pull the debris out of the way to provide maximum face control."
The wedge soles are also configured to interact with the turf during the strike to give the golfer as smooth a shot as possible. The first part of that design is a rounded bottom edge on the front of the club from toe to heel, what Oakley called "the smile".
Wedges are often set at address to something other than perpendicular to the golfer's line. The slightly rounded front edges are easier to look down at than a straight edge aimed left or right (for left-handers).
Oakley also discussed the different bounce angles offered in the RTX wedge line. Bounce refers to the angle of the club's sole, expressed in degrees. For example, the RTX-4 58 and 60 degree wedges can be bought in the XLow design, with only 3 degrees of bounce. "That's our lowest ever. It's for tight lies and when you have the club face wide open," Oakley said.
There are three other bounce options. Oakley said most people use the Full mid-bounce design for softer lie conditions, such as in bunkers or thick rough. This mid-bounce is set at 9 degrees.
Cleveland offers two shaft options. The the steel Dynamic Gold S400 shaft is its leading seller, but the graphite wedge also sells well. I have been using those for several years because I also use graphite shafts for my irons. The wedges sell for $140 with a $10 upcharge for the graphite shaft.
We also discussed when and under what conditions players should replace their wedges, because with repeated use the grooves and millings will wear down and alter the club's performance. Oakley said for golfers who play 30-40 rounds per year, a replacement schedule of two to two and a half years should be good.
"I also recommend you keep your old ones for practice, so you can keep your gamer set in good shape for longer," Oakley said.
Royal Albartross
Two years ago, while touring Italy's Tuscany region, my wife and I went into a tiny store specializing in leather goods. We were both impressed by an incredibly gorgeous pair of multi-toned leather golf shoes. Italy's reputation for high quality artistry in shoemaking was being upheld once again.
Alex Bartholomew, the CEO and chief designer of Royal Albartross London, is happy to play her part in keeping that tradition vibrant and alive in the golf sector.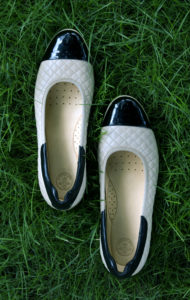 The high-end footwear and fashion accessories brand filled its booth at the 2019 Merchandise Show with dozens of great examples. My first reaction to seeing the RA shoes was to recall that delightful experience in Italy.
Bartholomew is a South African native, but was educated and worked in England. She described her company's mission as combining "English luxury with Italian handmade leather."
Mission accomplished, from my perspective.
Among this year's items, Albartross is emphasizing what it calls "Links to Life" crossover designs. For example, the Runway collection for women combines a ballet flat upper with a "performance-inspired soft-spike sole." The uppers can include patent leather toecaps with contrasting quilted leather for the remainder, a great-looking combination.
Several of these styles are offered at $199. None of them look like a downsized, pink-hued version of what men wear on the golf course – which is the point.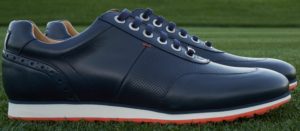 The Driver collection is Albartross's best-selling golf sneaker design for men. The spikeless sole design is paired with beautiful leather uppers, in tan or navy ($229). As Bartholomew said, navy is a hard color to find in shoes, and her version is very appealing.
For those seeking more traditional spiked designs, take a look at the Captain Nero leather designs, in black or white ($425). The craftsmanship is again of very high quality.
Bartholomew said her closest sales locations to the Cape Region are in New York City and at the Trump National Bedminster pro shop. However, they also do a lively online business at us.albartross.com.