October 11, 2019 
Apparently Cape Gazette sports editor Nick Roth can be a handy substitute for team golf events.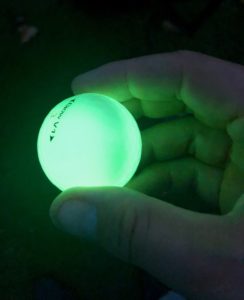 The former caddie accepted a last minute invitation to play in this year's Shamrock Par 3 Night Golf event, held Sept. 28. He said his foursome shot 6-under in the scramble.
Course owner Wendy Stenger said this was the 14th year for their unique end of season celebration. If you're interested, make a note to sign up next September for the 2020 scramble. 
Miura Golf
Some golf equipment companies can blend performance with craftsmanship and create very beautiful things.
Miura's forged irons and wedges are firmly established in this category. There is something gorgeous about a finely shaped piece of steel. Form is married to function in ways extremely pleasing to the eye, in much the same way a fountain pen or a watch are not only intended for day to day use, but as jewelry.
At the 2019 PGA Merchandise Show in Orlando, FL I met Jason Rutkoski, executive vice president of Miura Golf. The Arizona resident spends part of his year in Japan with the Miura family, who started the company in 1957. Rutkoski briefly went through with me the 14-step forging process that creates the irons and wedges, beginning with small steel billets. An impressive display case at the Miura booth showed samples of several of these stages.
Rutkoski said this year's newest offering is the CB-301 model, a forged cavity back iron. The soft carbon steel clubs use variable soles and cavity depths. Rutkoski said these irons are good for all handicap levels. The lofts range from 4-iron (22 degrees) to gap wedge (48 degrees), with three or four degrees of loft between each club in the series. As forged clubs, they are easily adjusted for lie and loft angle by a good club fitter.
The MB-001 is Miura's classic blade design, an elegantly simple look. The MC-501 is a muscle-back set, where a large part of the carbon steel is positioned in the rear center. The IC-601 looks a bit like the MB, but the hollow club also has a small weight screw in the rear center.
The Tour Wedge and New Wedge models share some of the deceptively simple yet beautiful design elements of the MB blades. Rutkoski said this year Miura used CNC milling for the clubface and grooves.
The same milling process was used for the K-Grind wedges. Fluted soles on the K-Grind models make shots from the rough or sand a bit easier.
Seeing the Miura clubs reminded me of a climactic scene in the Quentin Tarentino movie "Kill Bill Vol. 1," when soon-to-be-dead Lucy Liu notes with astonishment that Uma Thurman's sword "really was a Hatori Hanzo sword."
When I told Rutkoski that, he laughed – but he also agreed.
Tory Burch/Tory Sport
I am not among the potential customers for the clothing offered by Tory Sport, the active wear brand of Tory Burch. That doesn't mean I can't appreciate the beauty and quality of what they presented at the 2019 PGA Merchandise Show.
The new lines for the season emphasize the 1970's, with a fair amount of blues, pinks, and greens.
The company's signature ruffle elements appear on its clothes, shoes, and accessories. It's a much quieter branding statement than found on some other apparel makers, but it's also a bit of fun for its fans.
I really liked some of the outfits. For example, the blue pleated golf dress is made with a stretch woven material that lightly hugs the body while also providing the performance fabric wicking action that golfers now seek. The mock pleat collar is a pretty accent. Two front pockets and a zip pocket in the back are handy for balls, tees, and markers. I think it would be a very flattering look, while also maintaining complete freedom of movement during the swing.
The '70s look is well represented by the merino jacquard vest in a green and white check pattern. They updated the design by blending performance fabric with merino wool.
There's also a place for occasional whimsy on the golf course, and Tory Sport offers a few options. Their performance cashmere fairway cardigan fits the bill, featuring cartoon like graphics of a golf cart, bag, and green on a white background. It's not for everybody, but what in fashion really is?
Local club competition results
The Kings Creek CC Ladies 9-Hole invitational took place Oct. 2, with a team net competition.
Sue Eisenbrey, Kathy Nave, Ginny Reese and Joan Strickler won first place, with Patty Benz, Jen Cline, Ginger Rettig, and Mary Pat Urbanik in second. Nancy Derrickson, Debbie Iammatteo, Hope Lavachia, and Judi Pezone took third, and Tina Brown, Carolyn Horn, Rose Schmidt, and Sandy Neverett finished fourth.
Noreen Buzerak, Patti Davis, Jane Perkins, and April Sweet came in fifth, and Lorraine Anderson, Sharon Brown, Carol Gumrot, and Trixie Ruftt took sixth.