February 21, 2020
Anyone involved in the golf grip business must first come to grips, as it were, with Golf Pride.
The North Carolina company enjoys an estimated 80 percent of that market, and works hard to maintain it.
That said, the folks at Lamkin Grips plan to expand their California company's market share, and are willing to invest a potentially large amount to do so.
At the 2020 PGA Merchandise Show I spoke with Jason Bustamante, the company's director of OEM Sales and Strategic Accounts. The 2007 Arizona State grad has spent ten years in the grip business, the last four with Lamkin.
The company has been around since 1925, so it finds ways to stay relevant despite its market share disadvantage against Golf Pride.
This year's initiatives include a unique grip giveaway, as well as a new in-store putter grip fitting system that should make the process easier and more effective.
Beginning Feb. 17, golfers can use an online Lamkin grip selector to help you decide which grip style suits your game. Answering five questions creates a set of three different grip options.
Using the selector also earns each golfer a voucher for a free grip, redeemable at participating retailers such as Golf Galaxy, Dick's Sporting Goods, or Club Champion.
Golfers can qualify for an additional free grip with the purchase and installation of eight swinging grips – so putter grips don't count for this offer.
However, Lamkin's new Putter Grip Fitting System also shows promise. A small display at participating pro shops and retail golf stores includes the bottom half of a putter shaft with a Taylor Made right hand Spider X attached to it.
The display also comes with twelve different putter grips attached to the top half of a putter shaft.  
Connect two shaft pieces, try the putter with one grip, then switch the top half and try another putt with a different Lamkin grip.
"Putter grips are growing quickly for us. This really changes the fitting process," Bustamante said. "It'll be at a lot of courses."
Bustamante said Lamkin's Sonar+ family of grip designs is its best seller across all lines.
These models use Lamkin's Fingerprint Technology, a micro-texture pattern that promotes light grip pressure without fear of slipping.
The all-weather grip material keeps its tackiness regardless of conditions, according to Lamkin.
Rapsodo Mobile Launch Monitors come to the Show
Sometimes reality doesn't match expectations when you travel to Florida.
That thought crossed my mind as I put on a long sleeve shirt, a sweater, long pants, and a jacket in preparation for Demo Day at Orange County National Golf Center Jan. 21.
This opening event of the PGA Merchandise Show is usually crowded, even during the morning session that is limited to golf pros and media types.
Not this time. The temperature was in the high 40s, with 20-30 knot winds to bring the chill down even further. The crowd number dropped along with it.
If I were back home in the Cape Region, I would have played 9 holes and then gone inside for soup.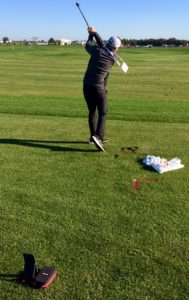 Instead, I walked over to the Rapsodo station at 9 a.m. to learn about the St. Louis, MO company's new Mobile Launch Monitor. Jake Newman, a Rapsodo staffer, was hitting nice iron shots out into the huge driving range, taking short breaks to warm his hands between shots.
Hooked up to an iPhone or iPad, the little 10.2-ounce device uses the phone's camera with its own software to provide a surprisingly detailed swing analysis. As soon as Newman hit a drive, the MLM gave a video playback, complete with shot tracers. "It's super easy to use," he said. If desired, the machine also provides an audio report for each swing.
The radar-based technology is designed for outdoor use without nets. The data include carry distance, ball and club speed, smash factor (swing efficiency), launch angle, and launch direction.
You can pinpoint a flag and use its GPS-enabled elements for closest-to-it competitions, or just to seeing how accurate you can be. By keeping track which clubs are used the MLM will also show players' shot averages and trends by club. Newman said he really liked it for distance gapping.
As with Strava and other performance software programs, the Rapsodo data can be uploaded to social media.
The device retails for $499.99, and is available online at rapsodo.com. And with its shot tracer playback capability, the Mobile Launch Monitor will show you immediately whether your swing expectations matched reality.
Check for bargains
Most golf companies time their new product announcements to go with the January PGA Show in Orlando. Last year's hot items as well as pre-season specials of the new stuff are now available at attractive prices for cost-conscious golf consumers.
For example, on Feb. 17 the folks at American Classic Golf in Midway began running a "Buy 2 Dozen, Get 1 Dozen Free" Srixon golf ball offer. This deal will run until supplies run out.
Rookery North is selling in-stock golf shoes at 50% off, while Rookery South is selling golf shirts at $40 each.
Check out your favorite Cape Region pro shop for similar opportunities.