October 30, 2020
Lynx Golf is a bit of a resurrection story. The golf equipment company flourished in the 1990s but struggled thereafter. With a new ownership group and some serious investment in research & development as well as marketing, the British company has enjoyed significant success in the last several years. 
The company's newest offerings promise to build on these triumphs in different ways. If the company is right about its chosen direction, especially in junior golf, it could do very nicely.
At the 2020 PGA Show I spoke with Kevin Woolgar, one of Lynx's R & D gurus, about the company's Ai Junior Range initiative.
Woolgar described how the Lynx design team developed a range of junior golf club sets, based on six different height categories. Every element of the clubs, from hosel width, shaft perimeter and length, head design, and grips was sized to maximize performance at each level. The company's colorful golf bags are also matched by size for each group.
The difference in club dimensions is startling, especially when placed against each other. Woolgar showed me two different 6-irons. One is 7% lighter and shorter than the next set in the range.
The new equipment is also paired with Lynx's new golf ball. While conforming to USGA and R&A golf association standards, the ball is 15% lighter than normal.
At that weight, the ball's performance would startle and disappoint a golfer swinging at average male amateur speeds. For that golfer's young daughter, however, the difference should be startling and delightful. Woolgar cited independent studies showing these balls travel up to 50 yards longer for golf's smaller set.
U.S. Kids is currently the major company in junior golf. When word spreads about the new Lynx clubs and balls, however, that dominance could change.
I also looked at Lynx's new Prowler VT Driver, which comes with the company's Switch Face Technology.
The concept is as simple as the branding. Using a set of screws, the drivers come with completely removable faces. As part of the fitting process, golfers can change the loft of the face while keeping it square to the ball. The company offers a range of loft and lie combinations.
MedTerra CBD products aimed at golfers
Golf can be a significant contributor to aches and pains suffered by its players, just like other sports.
While its demands on the body are considered less extreme than tennis, football, or basketball, the twisting motion of the golf swing can take its toll on anybody.
With the passage of the Federal Farm Bill in 2018, hemp producers were now able to market cannabidiol (CBD) as a potential source of relief.
According to an April 2020 article in the Harvard Health Blog, CBD has been "touted for a wide variety of health issues." However, the article also noted that researchers "don't know the most effective therapeutic dose of CBD for any particular medical condition."
Nonetheless, at the 2020 PGA Merchandise Show in Orlando, FL several CBD merchants busily touted the claimed benefits of their wares, in a variety of formulations aimed at the golfing public. There are also a few CBD stores in the Cape Region.
While at the Show I spoke with Jay Hartenbach, CEO of MedTerra CBD, as well as his national account manager, Patrick Koenig, about their products.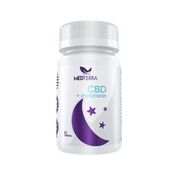 Koenig said MedTerra CBD is sold at PGA Superstores, CVS and Walgreens drugstores, as well as several "high profile courses." Koenig also talked about PGA Tour golfer Charley Hoffman, who has gone on the record with his beneficial experience with the product.
MedTerra's CBD is available in tablet or capsule form, as a roll-on or topical cream, and as a tincture for putting drops under the tongue. One MedTerra 25mg CBD formulation includes melatonin as a sleep aid.
Hartenbach said his Irvine, CA company is partnered with a Kentucky hemp farm, its sole source of supply for Medterra's CBD ingredients. He said his products are "ultimately helping people play more golf" than they would otherwise. He suggested the CBD is useful for recovery as well as simple "morning pill" addition to golfer's habits.
As for his customer base, Hartenbach said it is a "pretty even demographic among younger and older men and women." The company is participating in several golf charity tournaments as part of its marketing efforts, and he hoped to eventually "work on partnerships" with the professional tours.
For now, the Food and Drug Administration has approved CBD as a prescription drug for two relatively rare epilepsy conditions. The FDA is going through a public hearing process to delve further into the potential benefits of or drawbacks against CBD use.
As with any other claimed pain remedy, a cautious approach to CBD is probably best, along with a reminder that the placebo effect is a real thing.
From what I observed at the various CBD booths at this year's PGA Show, these products certainly enjoy significant popular support – but it looks like there is still a place for BenGay® cream.