February 26, 2021
Exhibitors at the 2021 virtual PGA Merchandise Show relied heavily on video to spread the word about their products and services.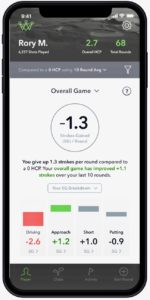 I watched a good online presentation by Arccos Golf CEO and Co-Founder Sal Syed about the game analysis company's recent performance and its upcoming new features.
"Guessing is not smart. Knowing is," he said, encapsulating the point of the Arccos system.
The Caddie app syncs with sensors that are either screwed into club grip ends or are integrated into the grips provided when the clubs are bought, which is what Cobra introduced a few years ago. Your smartphone tracks each shot during a round, combining the apps' sensor data with GPS locations throughout the golf course.
The data use the shot distance data to create averages for each club and other critical information, such as fairway percentages, how many approach shots reach greens in regulation, distance from the hole, and other valuable insights.
Thus far Arccos users have downloaded data from over 400 million shots during over 6 million rounds in 194 countries. Several club companies and fitters now incorporate Arccos devices into their offerings, reflecting what Syed called the "passionate response from users."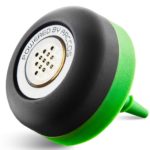 The information the app provides generally leads to improved golf, according to Syed. The overall improvement is just over 5 strokes, varying by handicap. Golfer with 20+ handicaps reportedly see a drop of about 8.5 strokes, 15 to 20 handicappers about 6, 10 to 15 about 4.3, 5-10 about 2.7, and 0 to 5 handicappers an average of 1.07.
Three recent highlights Syed stressed were the artificial intelligence rangefinder element, the Strokes Gained Analytics feature, and the new Caddie Link device.
The Link device addressed repeated requests from Arccos users to avoid the system's prior requirement to keep the smartphone in the left pocket for the shot collection element. The new device clips onto a belt or the waist lining of a skort, syncing with the smartphone via a Bluetooth connection. The phone can remain safely stored in a cart or golf bag instead.
The rangefinder element provides distance to the front, middle, and back of the green, along with wind speed, direction, and other useful environmental data.
The Strokes Gained Analytics use the shot data to "set targets and gain insights," according to Syed. For example, players can use the SGA to see what parts of their game need work to reduce their handicaps by 3 strokes. As Syed said, there's no point in showing a 30 handicapper what he should do to become a touring pro. The SGA helps golfers focus their lesson and practice routines to where they are most needed, such as iron play, approach shots from 150-200 yards, or miss tendencies.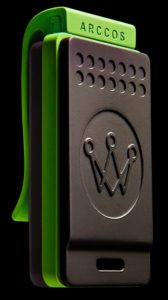 Syed also discussed the company's 2021 goals. These include a new Player Dashboard, viewed from the web on larger screens such as tablets or laptops, and aimed at providing additional insights. Arrcos also obtained an NCAA-conforming program for college golf that permits data gathering for post-round analysis without running afoul of current device use limitations.
The Arccos app has passed the beta stage for Apple Watches from Series 6 and above. Syed said the watches will provide the rangefinder data with full elements, with improved shot detection and faster data syncing with smartphones. Golfers can also set pin positions on their watches during the round, increasing data accuracy.
Syed said improvements in machine learning algorithms will permit customization by terrain and shots, such as telling golfers how their shots are affected by the fairway or rough. He also said they expect to produce "enhanced putter data insights," including tracking of second and third putt locations. In addition, Arccos expects to help golfers with equipment evaluation based on the on-course data it collects.
USGA and R & A seek comment on amateur status rules proposals
A local golf pro told me years ago college golf team players are "America's Guests" with just a hint of admiration.
These young golfers enjoy playing at nice golf courses with no worries about meals, lodging, or course fees. Hundreds of these college athletes have used these opportunities to compete at Cape Region tournament sites such as Rehoboth Beach CC and Kings Creek CC.
A proposed set of rules changes by the United States Golf Association and the Royal & Ancient could make it easier for non-collegiate amateurs to obtain support for their continued development without going pro, in addition to similarly situated former college standouts.
The suggested amendments would permit amateurs to use sponsorships or similar outside help in return for promoting their sources of support, or by using social media apps that allow viewers to send money.
In addition, amateurs could accept money or other currency such as gift cards up to $750 in regular tournament competition. The dollar restriction would be eliminated for other contests, such as long drive or other skills competitions.
The public comment feedback period on these and related changes opened on Feb. 22 and end on March 26. Email either AmStat@usga.org or AmateurStatusFeedback@randa.org.