February 12, 2021
Congratulations to Pete and Zac Oakley for their T-3 finish in the PGA Senior-Junior Championship at the PGA Golf Club in Port St. Lucie, FL Jan. 21.
The 2004 Senior British Open champion and his son, the 2015 Delaware Open winner, each earned $3,050 in the 4-round better ball competition, finishing at 29 under par.
"Zac did most of the work as I helped with pars when he needed," Pete said. "Zac holed his 2nd shot on a par 4 to win us a big skin. Zac shot 64 when we shot 62, [and] 65 when we shot 60. He was never out of one hole in 72."
When I asked the Rookery's co-founder if his son was tired from all that carrying, Oakley had a ready response: "I showed up the third day and made 5 birds so he got a little rest one of the days, and [he shot] 70 [for] the final 68 we scored," he said.
Mizuno Golf
Mizuno enjoys a well-deserved reputation for great golf equipment, especially its irons. The Japanese multi-sports company has a nice market niche among avid golfers as well as the highly skilled professionals on tour who appreciate the playing characteristics of forged designs.
At this year's virtual PGA Merchandise Show I spoke again with Jeff Crawford, the Associate Marketing Manager in Mizuno's Golf Division. We discussed the seven different iron models now offered by the company, as well as the new driver and fairway clubs that are earning rave reviews.
The JPX921 Series uses a high-strength steel/molybdenum blend called Chromoloy in each of the full body forged iron sets for the first time. Crawford said the new metal promotes fast ball speeds. The differences among the 921 models take into account the level of speed, distance, and forgiveness sought or needed by the golfers using them.
We talked about the rising trend of golfers ordering combination sets, such as using more forgiving designs for the lower lofted clubs and the more precise models from 8-iron through pitching wedge or higher.

Crawford also said, "The lofts on the irons are not as uniform between lines as in past years." He said that means it is more critical than ever for golfers to work with a fitter to create and adjust their combo sets. As forged clubs, the Mizunos are easy to adjust on a loft/lie machine to avoid unnecessary gapping problems.
The set make-up also varies between models. For example, the JPX921 Hot Metal line begins with the 5-iron, while the JPX921 Forged line includes a 4-iron option. This change reflects golfers' acceptance of their limitations. Those who gravitate to the more forgiving Hot Metal irons are also more likely to use hybrids or fairway woods for their long-hitting needs.
Mizuno's MP20 irons may be a good choice for elite players. The HMB models use hollow body construction and a soft copper plating. The MMCs also feature the copper plating but with an open cavity back design. U.S. Open winner Justin Rose was recently seen playing MP20s at a European Tour event in Dubai. PGA Championship winner Jason Day is using a combo set of JPX921 Tours with MP20s.
Crawford said the change in design fundamentals by Mizuno and other companies caused a change in how Mizuno sets up its fitting carts at green grass pro shops and elsewhere. In the past, the cart's shaft lengths and lofts were essentially 6-irons – but the general move to stronger lofts means that the Mizuno carts use the 7-iron versions instead.
For several years, Mizuno's drivers, fairway woods, and hybrids had not earned the same reputation for quality and performance as the irons – until recently.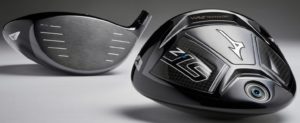 Beginning three models back with its ST190 line, Mizuno began a multi-year process of producing drivers and fairway woods that made golfers and other equipment companies sit up and notice.
The 190 drivers used a titanium alloy face combined with carbon composite head elements to match performance levels generated by more popular lines such as Callaway, TaylorMade, Cobra, Ping, and Titleist. The ST200 line that came out last year built on the 190's success.
The ST-Z and ST-X drivers for 2021 are the next iteration of the overall design concept and have been earning rave reviews from online influencers such as TXG, Mark Crossfield, The Average Golfer, and James Robinson Golf. The Z design uses a deep-set centered weight to promote straight shots, while the X design's weighting promotes a draw.
The lofts for each driver are adjustable within a 4-degree range. And at $400 each, the 2021 models present an attractive price comparison to the new drivers from the big guys.
The 2020 CLK Hybrids ($250 SRP) are also very popular, in four right-hand models from 16 to 25 degrees of loft, and two left-hand models at 19 and 23 degrees. Each hybrid's loft can be adjusted within a 4-degree range, and lie angles are also adjustable for an even better fit. Crawford said the CLK models remain current for this year.