Oct. 29, 2021
The Ladies Professional Golfers Association is perhaps the most geographically diverse professional golf tour, with players from Asia, Europe, Africa, South America, Canada, Mexico, and of course the United States.
It stands to reason, therefore, that some of these golfers may not have fully experienced the variable weather conditions the U.S. Mid-Atlantic region can provide.
During the late May/early June days for the ShopRite LPGA Classic presented by Acer, the Bay Course at the Seaview Resort just west of Atlantic City can challenge the players with muggy mornings accompanied by thousands of no-see'ums flittering around.
Clouds of bug spray can only do so much.
The 2020 and 2021 ShopRite tournaments took place in late September/early October, when those tiny insects are nowhere to be found or felt. Nearly every player I interviewed commented on the blessed absence of the bugs, while also expressing appreciation for the typically beautiful weather the area enjoys in early Fall.
That said, sometimes there are a few surprises.
During this year's first round on Oct. 1, I joined Christina Kim, Caroline Masson, and Pornanong Phatlum for their 7:10 a.m. opening start for the tournament, just a few minutes after sunrise.
It was gorgeous.
It was also cold – about 48 degrees, only hours later rising to the low 70s.
LPGA veteran and 2016 Olympian Phatlum is from Thailand. She came to the first tee bundled up in a puffy winter jacket, taking it off to make her swing and then quickly putting it back on for the walk down the fairway.
She continued to wear the bulky coat, removing it only for the time needed to make her shots, for at least six holes.
When we chatted after the round, I asked Phatlum if the weather in Thailand ever became as cold as it was that morning. She laughed, vigorously shaking her head as she said "No!"
I asked how much of a problem the coat switching presented. Phatlum gave a long response in her native tongue, which her caddie, Kwang Pulsawatch ("KP") helpfully translated.
"She couldn't get used to it. She doesn't really like the cold weather. It didn't bother her to take it on and off, she was just trying to keep herself warm," KP said.
The duo also laughed in agreement with the suggestion that wearing that coat all the time during a round of golf would be the real problem.
The weather also affected how Phatlum played initially, especially from the rough.  As KP translated, "The first couple of holes that we played, because of the dew, it made it hard to adjust to how thick or not [it was]. It seemed to be thicker than the practice round. When she got used to it and could see how the ball would come out, and see how much it's going to roll, that made it easier to adjust the shot and commit to it."
Cape Region golfers who play in fall mornings would heartily agree with that assessment.
Mulligan's Pointe wins Eastern Shore Inter-Club trophy
Congratulations to the 22 members of the Mulligan's Pointe team for winning the 2021 Eastern Shore Inter-Club Golf Association championship.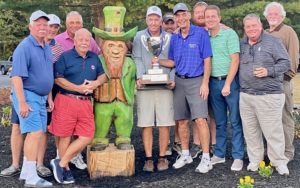 The league played a season long series of matches among ten clubs in the Cape Region and Maryland's Eastern Shore. The matches combined individual and four-ball contests, with 9 points to be made from the front, back, and overall.
At the end of the match cycle, the top four teams entered a playoff for the championship and the Eastern Shore trophy.
Mulligan's Pointe defeated Heritage Shores Golf Club and Glen Riddle Golf Club defeated Plantation Lakes Golf & Country Club in the first round of playoffs Sept. 15. The Georgetown team then won out over Glen Riddle in the finals held Sept. 21 at the War Admiral golf course near Berlin, Maryland.
The Mulligan's Pointe team members who competed in the championship match included Dan Weber, Joe Henderson, Juergen Trager, Tom Carroll, Randy Aldridge, Wes Townsend, Jim Joyce and Don Amann. The rest of the Mulligan's crew included Daryl Calhoun, Dave Davis, Steve DeBernardis, Mark Dufendach, Mark Francello, Brian Hayes, Vic Hrebien, Ron Lewis, Shane Long, Greg Macklin, Brian McManus, Scott Michaelson, Bryan Morgan, and Todd Slacum.
This was the league's third year, originally formed by Anthony Colicchio of Bear Trap Dunes and Glen Reid of Cripple Creek Country Club. Bear Trap Dunes won the first championship in 2019 and Wild Quail Golf & Country Club won in 2020.
Minimum team requirements include a designated captain and co-captain and at least 16 club members from which to fill each week's match roster. In addition, prospective team members must have an official handicap index of less than 15.9.
The Association seeks additional club participation among Cape Region clubs.
For more information, contact Anthony Colicchio at 302-598-6766 or ajcolicchio @gmail.com.