July 29, 2022
Sarah Lydic will compete in the 2022 U.S. Women's Amateur Championship Aug. 8-14 at Chambers Bay, WA.
That is a great accomplishment, especially for someone who just finished tenth grade.
The 2021 DIAA state golf champion from Sussex Academy qualified for the event with a one-over par tie for first place in a qualifying round held July 13 at Kenwood Golf & Country Club in Bethesda, MD.
"Everything was so far back," Lydic said recently. "One of the par-3s was 197 yards. I used my 3-wood and my ball finished 10 feet from the pin. Hitting your shots in the right spots was a necessity. You can't force things, especially on the harder holes."
Lydic said most competitors played at the collegiate level. USGA entrance rules for the Women's Amateur also permit no more than a 5.4 handicap index, but as Lydic said, "You have to play so much better than that."
She said she did not know what her own handicap was [+3.0 as of July 26, according to the DSGA], but noted that her scoring average dipped to even/under par territory in recent weeks.
Good timing.
Lydic's performance at the North & South Junior Championship in Pinehurst, NC the week before the Kenwood qualifier was also well-timed. Her 6-under total in the 54-hole tournament led to a second-place finish and a chat with Kim Lewellen, the women's golf team coach for Wake Forest University.
"Coach Kim was watching me, and so was her husband," Lydic said. Not long thereafter, the coach told Sarah she wanted to give her an offer to play for Wake Forest.
"I told her there's not much to think about. I couldn't be happier to play there," Lydic said.
The Wake Forest connection was already strong. Sarah and Hannah Lydic both attended golf camps there years ago, including a camp with the coach. Sarah said she loved the place.
In addition, their late grandfather, Richard "Kent" Lydic, was a Wake Forest golf fan and a huge supporter of their achievements. "He must be smiling," their father Garrett said.
Ronemus makes ace
Congratulations to Deb Ronemus for her hole in one on the 17th hole at The Rookery July 20.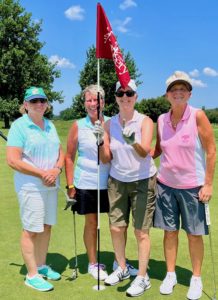 She used her Cobra 5 hybrid and a Bridgestone e12 golf ball for the 103-yard shot. Linda Welch, Kelly Barber, and Jane Kuhfuss witnessed the ace.
Ronemus previously aced The Rookery's 9th and 15th holes – so betting against her on a par 3 is probably not a good idea.
Porky Oliver biography wins state, national awards
Congratulations to John Riley of Wilmington for his book awards for his biography of one of the best professional golfers to ever come from Delaware.
"How He Played the Game: Ed 'Porky' Oliver and Golf's Greatest Generation" won first place in the nonfiction book category from the Delaware Press Association in March. That win qualified Riley for the national competition held by the National Federation of Press Women. The NFPW also gave Riley a first-place finish among nonfiction books for 2022.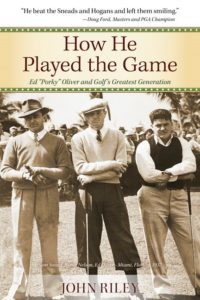 Riley said, "It has been an honor to work with the Oliver family and the Ed Oliver Golf Club to tell Porky's story and exciting to see the book being recognized locally and nationally."
I recommended the book in my Feb.4 column.
Long Neck Sunrise Rotary Club fundraiser a success
 The Long Neck Sunrise Rotary Club held its annual fundraiser June 20 at The Peninsula Golf & Country Club. Proceeds from entry fees and sponsorships exceeded projections, with the $36,000 total exceeding the prior year's amount by $8,000.
The event supports the Rotary's Global Polio Eradication Initiative and local organizations serving youth, veterans, adult literacy, and programs dealing with opioid dependency.
Local club competition results
The Rehoboth Beach CC Ladies 18-Hole group played a 1 better ball odds, 2 better balls evens game July 27. JoJo Barrows, Carol Wetherhold, Dale Lipnick, and Genine Fidler (blind draw) won first net, with Robbie Robinson, Christina Harvey, Barb Collins, and Jeanne Allen in second.
The Kings Creek Ladies 9-Hole group played a 1, 1, 2 game July 26, won by Chris Emery, Deb Chase, Patty Davis, and Patty Quercentti. Marie Murray, Darci Whitehead, Kathy Andrus, and Davis (blind draw) took second.
The Mulligan's Pointe Ladies 18-Hole group played a Nassau game July 26.
In the first division, Linda Townsend won the front nine, with Valerie Gib in second. Tammy Findlay won the back, with Sue Ahern in second. Karen Feuchtenberger won the 18-hole contest, followed by Diane Braver.
In the second division, Nancy Mahwinney won the front nine with Christine Allison in second. Rita McConnell won the back, with Pam Pichoila in second. Brenda Joyce won the overall contest followed by M. L. York.
The Kings Creek CC Ladies 18-Hole group played a net Stableford game July 21.
Winnie Sewell won first place in the first flight, with Cynthia Robinson in second and Erin Reid in third. In the second flight, Jeannine Doane took first, with Ana Dittel in second and Katie Heintz in third.
Debbie Grant won the third flight, followed by Alicia Polsky in second and Vicki Martina in third.