March 17, 2023
Congratulations to former Cape Henlopen High golf standout Matt Zehner for qualifying for the 2023 PGA Professional Championship April 30-May 3 at the Twin Warriors course in Santa Ana Pueblo, NM.
This tournament is the last hurdle for 312 golfers seeking to fill the 20-player club pro segment for the 2023 PGA Championship at Oak Hill Country Club in Rochester, NY in mid-May.
Zehner graduated from Cape in 2017 and completed the PGM program at Penn State. He works winters at Jupiter Hills GC in Florida and returns to his assistant golf pro position at Wilmington CC in May.
"I had a solid final round in the [Philadelphia PGA] Section Championship that boosted me up the leaderboard. I'm very excited to have the opportunity to play in the 2023 PGA Professional Championship. I'll have my close friend Brock Maloomian who I grew up playing with on the bag and we're looking forward to the experience ahead of us," Zehner said.
First Tee at RBCC May 22
The First Tee – Delaware is holding its annual Delmarva Scramble fundraiser at Rehoboth Beach CC May 22. The event supports the youth organization's ever-growing program offerings in southern Delaware and Maryland's southern Eastern Shore.
To register for the popular event, go to ftdms23.givesmart.com or the events page at firstteedelaware.org.
Uneekor adds to product range
Last year I wrote about Uneekor launch monitor/simulators, which are increasingly popular at golf clubs and the at-home market.
The Korean company's 2023 product line now includes an add-on training element, displayed at the 2023 PGA Show.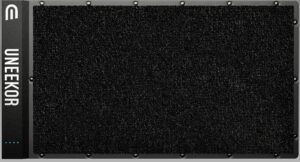 The Balance Optix System is a pressure plate that measures ground forces applied by golfers during their swings. "It's been instrumental in helping me improve my game," said Uneekor spokesperson Julie Lim, a Torrance, CA golf teacher.
The weight shift is shown in real time on a monitor display, with a heat map displaying the degree of force intensity applied. A second tab shows the percentage force numbers and the data can be stored for swing reviews and discussions with a coach.
"There's a body/mind disconnect that can happen in the golf swing," Lim said. She said one of her students was convinced she was keeping her weight on the toes of her feet. It took the new system's display to convince her about her actual positioning on her heels.
At $1,500 SRP, the Balance Optix System is intended to supplement Uneekor's simulator products. Lim said the company is working toward meeting compatibility requirements with other simulators. In the meantime, the official product launch is set for this spring.
Reel GOLF gives resort golfers quite the souvenir
The 2023 PGA Show featured plenty of material for club professionals and others in the usual categories such as clubs, apparel, maintenance equipment, and training devices.
For resort golf course owners and others with deep pockets, the owners of Reel GOLF offered something very different to enhance customer satisfaction.
Kevin Imes is a successful inventor and entrepreneur who was less than impressed at the shaky iPhone video he took during a round at St. Andrews. That experience led him to search for a better option, taking advantage of his contacts, existing technology, and its possible offshoots.
As they say, one thing led to another.
The result is the "first on-course autonomous videography system," as Imes described in a recent interview. 
Two Bosch 4K cameras are installed at "signature par 3s," he said, with a company-hired, award-winning videographer locating the cameras for shots of the tee box area and the green. The two cameras communicate together during each shot, using AI algorithms to self-edit the video clips for each tee shot.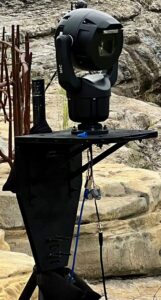 The bullet- and hurricane-proof cameras come with windshields and other protective devices to maintain operational capacity in all-weather conditions. These cameras were first used on aircraft carriers, providing another example of the peacetime adoption of military technological advances.
Players scan a QR code at the tee box before taking their swing. The recorded shot is uploaded to the player's phone within minutes after the shot, ready for sharing on social media or other uses. The video can include the player's name, the course name, a logo, the hole number, the distance to the pin, and the ball shot tracing from tee to green.
"It's all aimed at enhancing the golfers' experiences at the resort," Imes said. He said 4K video makes it possible for single camera tracking, instead of multi-camera systems used by others. The 4K's dense pixel capabilities enhance the camera's ability to see the golf ball, observe its spin and direction, and accurately track it.
None of this experience comes for free, of course, except for the initial installation by ReelGOLF. The two-year lease calls for a payment of between $3,000 to $5,000 per month for up to 500 shots recorded, or about $3 to $7 per shot.
On the other hand, the videos can add value to the resort's offerings for its guests, promote signature holes, and capture valuable contact information from users for marketing. It could also be a handy supplemental asset for resort conferences and events.
And all this came from a shaky iPhone.