Cape golf team continues to improve
May 5, 2023
The Cape Henlopen High School golf team used several combinations of players in the last two weeks to boost their match record to 6-4. Three matches remain before the Henlopen Conference Championship and the season-ending State Championship Tournament.
The Vikings hosted the Golden Knights of Sussex Central May 3 on Rehoboth Beach Country Club's front nine, winning 174-219.
Sophomores Brendan Staggs and Tyler Healy won co-medalist honors with 43s. Fellow sophomore Jacob Gabbard and senior/team captain Ethan Mercer each posted 44s to complete the team scoring.
For Staggs and Healy, their rounds were their best results of the season. Staggs played steady, with only one double bogey. Healy said, "The key for me was just to push forward, and not think about the last shot."
The day before, with significant, chilly winds and a constant drizzle bothering all players, Cape won a home match against Dover on RBCC's front nine, 183-193.
Sophomore Damon Edwards won medalist honors for the Senators with a nice 40. The Vikings' Healy and Dalen Daminger led their team with a pair of 45s.
Healy parred three holes, doubled three others, and bogeyed three more. "My long putts were awesome," he said. "The short putts that made me nervous."
Daminger said, "It was bogey golf all the way round. I had way more three-putts than I would have liked."
Ethan Mercer played tired and looked it, posting a 46 for third best among the Cape contingent. Travers Johnson and Jacob Gabbard both shot 47, with one of those scores counting toward the total.
Gabbard described his round as his "worst score of the year," but was committed to not repeating it in future matches.
Johnson noted this was the first match conducted without the lift, clean, and place option set by the Henlopen Conference for the first part of the season through April 30. "My chipping was more difficult for me," he said. Johnson felt a couple days' practice would cure his difficulties.
The Vikings lost to host Delmarva Christian on Baywood Greens' front nine April 27 by a single stroke, 176 – 177.
Mercer and Delmarva Christian's Lance McQuay tied for lowest score at 42. The two golfers would normally be co-medalists under Henlopen Conference rules, but the non-conference Royals called for a playoff. McQuay parred the tenth hole to win medalist after Mercer bogeyed it. The playoff did not affect the total team scores.
Damenger continued his prior run of form with a 43. Johnson and Gabbard both shot 46s for the team total. Gabbard's score included a 10 on a par five.
Viking head coach Robert Harrod said the team enjoyed its Baywood experience, which should come in handy. It is the host course for the State Championship May 30-31.
Speaking after the Sussex Central match, Harrod said, "Just pleased with the last couple of days. Everybody played pretty well, and yesterday there were bad conditions that we fought through. Today was better and there were still some struggles, but for the most part we're getting better.  And we've got more people getting into the mix, which I think is a really cool thing. So, we have to keep grinding, keep gearing up for States."
The team qualifying system for the States no longer considers match records within the state's athletic conferences. Instead, Delaware's top 96 scholastic golfers, as ranked by a version of the USGA handicap system, fill the field.
If a school has more than six players in the top 96, those "extra" golfers do not participate. Others beyond the original 96 threshold then move into the last few spots.
The Vikings currently have six players in the group of 96. Two or three more Cape golfers could meet that goal by playing well in the final matches and completing the 6-match minimum.
However, two Wilmington prep schools with very good golf teams, Salesianum and Friends, have yet to add their scores to the official rankings. This means Cape's golfers need to continue to play well and post lower scores. That would give the Vikings the best chance to field a full team for the states – which Cape has not done for several years.
DSU Hornets take second at Northeast Conference Championship
Congratulations to the Delaware State University women's golf team for their fine second-place performance in the 2023 Northeast Conference Championship, held at the LPGA International Hills Course in Daytona, FL.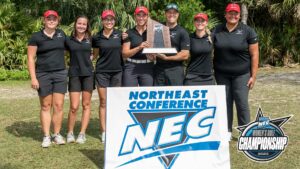 The three day, 54-hole event ended April 25, with Sacred Heart University successfully defending its 2022 title, ten strokes ahead of DSU.
Among the Hornets in the 55-player field, Anna Ferreyra-Heit finished third overall. Sydney Scraba finished seventh and Amber Pennington tied for ninth.
DSU head coach Rick McCall, Jr. said, "My team worked hard all year to accomplish the goal of winning the NEC Championship. Although we fell short, I know that everyone has grown both on and off the course. I am so proud of them!"
The team's next big event is the PGA WORKS Collegiate Championship, scheduled for May 8-10 at Shoal Creek Club and Bent Brook Golf Course in Birmingham, AL.