October 13, 2023
The Kings Creek CC Ladies 18-Hole League hosted an Invitational tournament Oct. 5.
Dozens of Cape Region golfers accepted the invite.
One hundred twenty players competed, with 76 coming from twelve other clubs and 44 from Kings Creek.
The 2, 1, 1 team format used two best balls from the par 3 scores and the single best score from the par 4s and 5s. With all players in one flight, the prizes went to the five best gross and nine best net scores. Each team could also use two gimme putts.
In the gross category, Kings Creek's Margie Moore, LeeAnn Wortman, Jackie Bowman, and Jill Snyder took first place.
Rosemarie Pellegrino, Michelle Boutcher, Susan Bohaker, and Diane Braver, from Hog Neck Golf Club and Ocean City Golf Club finished second. Glen Riddle Golf Club's Jessica Abel, Penny O'Linger, and Nancy Pivec took third.
King Creek members Erin Reid, Lisa Lekawa, Jackie Everett, and Kim Dare finished fourth, with fellow KCCC golfers Mitzi Reitnouer, Lisa Dillon, Becky Caprano, and Lisa Orem in fifth.
In the net category, KCCC members Robbie Monkman, Kay Woollen, Marty Jaxheimer, and Gail Letts won first place. Second place went to Cindy Hall, Eleanor Berry, Sharon Repass, and Maureen Gallagher of Glen Riddle GC and Bear Trap Dunes.
 Claire Barr, Susan Daugherty, Inga Hogue, and Sandy Riley of Nutters Crossing Golf Club finished in third place, with Rookery Golf members Kathy Williams, Stephanie Castaldi, Jan Johnson, and Janet Montague taking fourth.
KCCC members Kelly Brown, Dorrie Spilman, Cory Warther, and Stephanie Storrie finished fifth, with fellow members Lynn Sweeney, Lisa Schofield, Dawn Dupre, and Megan Dupre in sixth.
Donna Ruark, Alison Bloodsworth, Toni Overholt, Brenda Henderson of Great Hope Golf Club took the seventh spot, with Back Creek Golf Club members Robyn DiSabatino, Christine Press, Deena Koontz, and Lynne Dellis taking eighth. Mulligan's Pointe members Christine Allison, Wendy Michaelson, Susan Shockley, and Karen Feuchtenberger finished ninth.
Golftini – a pandemic recovery story
Small businesses risk being overwhelmed by events over which they have little or no control.
Survival in those circumstances requires a bit of drive, a bit of decisiveness, and a bit of luck.
Susan Hess went through that experience with her successful response to the COVID-19 pandemic for her Golftini women's apparel company – although for a while there it was a close-run thing.
Prior to the outbreak, Golftini did very well. The Chicago-based company's emphasis on stylish skort prints and complementary solid tops appealed to thousands of women golfers. The company's product offerings were expanding and the crowds at the Golftini booth at the PGA Shows were impressive and encouraging.
Then the pandemic shutdown happened.
Hess was forced to lay off nearly all her employees. Golftini became a two-person operation for a time. Despite these challenges, the company kept up customer service efforts, created unique shopping portals for country clubs selling Golftini merchandise, and adjusted as Asian factory sources shuttered at different times, which dictated the products that could be sold.
"It was a very scary time," Hess said in an interview at the 2023 PGA Show. "All our livelihoods were at stake."
Fortunately, Hess's pandemic efforts to stay afloat began to pay off. The company's inventory and customer base slowly returned to pre-Covid levels. One of Hess's sons, himself furloughed from his job in Colorado, joined his mother and began improving Golftini's social media presence.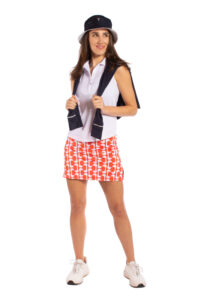 Others also came to the company to help with the warehouse operation and other back-end elements. As her staff re-expanded, Hess became freed up to focus on her own business strengths.
"I've been very lucky with my hiring," she said. "We now have a whole new growing team. I'm no longer the production manager."
The company's identification with skort/top combinations never went away and continues to be a major portion of Golftini's offerings. Hess said they also benefit from a general change in approach to women's clothing options. "People now wear golf clothes all the time," she said, which certainly helps.
Hess also noted that younger women like Golftini's offerings in varying skort inseam lengths, as well as the print patterns.
The Golftini look can now be seen on the LPGA and other professional women's tours. Hess mentioned that during the 2022 season Lindsay Weaver-Wright played an LPGA tournament while wearing Golftini outfits. As she watched, Hess wore the same outfit as the young tour pro.
That's some dedication to your mission – even if no one else was around to see it.
Local club competition results
The Mulligan's Pointe Ladies 18-Hole group played a scramble Oct. 3 for its last game of the season.
Sue Brady, Kathy Hudak, and Barb Willin won first place, with Joanne Foster, Valerie Grib, Susan Gatcomb, and Kathy Marks in second.
The Kings Creek CC Ladies 18- and 9-hole leagues held a combined closing day scramble Sept. 28.
Lisa Schofield, Candy Robinson, Mary Kupfer and Sally Chamberlain won the tournament, with Diane Shawver, Kay Wollen, Gail Letts and Barbara Morales taking second. Ana Dittel, Jeannine Doane, Kim Kavchok and Nancy Derrickson finished in third.