April 21, 2023
The Cape Henlopen High School golf team picked up where it left off on its return from spring break, with two well-executed wins April 18 and 19.
The Vikings first hosted Milford at Rehoboth Beach Country Club and avenged a close loss last season against the Buccaneers with a 173 – 179 victory.
Kingston Davis's 41 won co-medalist honors with Milford's Evan Gregg. The Cape freshman's round highlights included birdies on the 8th and 9th holes. His only troublesome score was an 8 on the par-5 4th hole.
Jacob Gabbard shot a 42 with pars on his first and last four holes, including a one-putt par save after going OB on the ninth.
Dalen Daminger continued to improve with a fine 43 on the heels of his medalist finish against Woodbridge April 5. In true golfer fashion, he firmly stated he could have gone lower.
Viking captain Ethan Mercer completed the team scoring with a 47. He was troubled by left-going shots from nearly every club in his bag, except perhaps his putter. 
Cape's head coach Robert Harrod said, "It was a good match. I was excited to see a lot of our players fire back up after break. Dalen played well. We're still struggling in some points of our games. We have to chip better, we have to putt better, a lot of places where we could have scored better."
The Vikings proceeded to take their coach's advice the next day, beating the Delmar High School Wildcats 166 – 183 on the RBCC front nine.
The Cape squad's total was its lowest match score since May 1, 2018, a home victory against Dover.
Davis, Mercer, and Gabbard all tied for co-medalist with Delmar's Caleb Ritchie with their 41s. Sophomore Travers Johnson completed the team scoring with a 43 in his second varsity match. Dalen Daminger also posted a 45 as Cape's fifth, non-counting score.
Davis stumbled a bit at first but recovered with an eagle on the par-5 4th hole and a series of pars thereafter. Mercer solved his going left issue from the day before. He also made a two-putt birdie on the par-5 9th hole, after a 210-yard second shot with a hybrid to the sloping green.
Gabbard had a steady round with only a single double bogey on the fourth hole. Johnson was especially pleased with his 40-foot birdie putt on the second hole, and that he stayed in-bounds and out of the water the entire round.
Harrod said, "It was a great day. It was really good to see all my guys play well. They were happy, they were supporting each other, it was what I wanted to see. When we're kicking out a 45 score that's a really good thing for us. To see the guys so excited about it, it was just over the top."  
First Demo Day at Rookery set for May 6
Four club companies will attend the first Rookery Golf demo day for 2023 May 6, from 10:00 a.m. to 2:00 p.m.
Call the pro shop at 302-684-3000 for 30-minute appointments with Ping, Callaway, Cobra, and Mizuno.
Marie Birdie adds tween girl golf apparel choices
Ellen Krissman didn't like what she didn't see.
Her young daughter Madeline had taken up golf and loved it. However, from what Krissman could determine, clothing options for young girls and tweens were minimal at best. "I was struggling to buy golf stuff for her," she said. After doing some research, she also discovered that 14-year-old girls leave sports participation at twice the rate of boys.
"I decided I wanted to do more for her and other girls like her," Krissman said.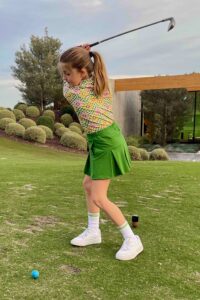 An already successful California businesswoman, she reached out and found a designer that felt much the same way.
Marie Birdie launched in the fall of 2022 and made its first appearance at the 2023 PGA Show.
The designs are whimsical but essentially traditional. Each collection promotes easy mix-and-match switching from one round to the next.
All skorts are designed with a flat waist front and gathered elastic back, to handle growing bodies and extend the item's effective stay in the wardrobe. To protect against sun damage, the technical fabric comes with UPF 50 protection.
Each skort or dress also comes with pockets. All orders come with a set of colorful tees with aspirational messages.
Sizing charts should make it easy to help with selections, and layering pieces are available.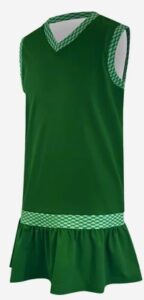 Pricing meets what Krissman described as an "affordable luxury" standard.
Both tops and skorts retail for $44.00 SRP while dresses range from $48.00 to $56.00 SRP.
Preorders are available online at mariebirdie.com with a projected May delivery date.
Local club competition results
The Mulligans Pointe Ladies played a team Criers tournament April 18 – perhaps because that day was also this year's deadline to pay federal income tax.
Karen Feuchtenberger, Tammy Findlay, and Valerie Grib won the first division. Bonnie Quesenberry, Cristine Belienda, and Christine Allison won the second division.