Small world syndrome once again
September 9, 2022
Public relations firms connect clients with media types at the annual PGA Show in Orlando, FL.
For example, last January the folks at the Buffalo Agency set up several interview opportunities for me from their stable of clients among the roughly 600 exhibitors.
Additional connections with these businesses sometimes show up in unusual ways.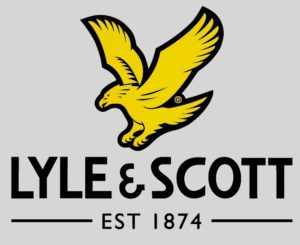 At this year's Show I had a pleasant conversation with Richard Prosser, UK & International Sales Manager for Lyle & Scott. The company began in Scotland in 1874 doing knitwear. By the 1950s its clothes were seen more and more often on golf courses such as Gleneagles.
The stylish prints and jumpers (sweaters) worn by Jack Nicklaus and Greg Norman expanded Lyle & Scott's appeal far beyond Great Britain.
The Golden Eagle logo is now seen in Japan and Australia. This year the company returned to the United States with a two-pronged approach to its designs and desired customer base.
Prosser said its youth-oriented fashion choices appeal to Great Britain's "terrace culture." As he described it, soccer fans in England enjoy "dressing up a bit" when they go to the games. This trend expanded beyond the pitch to other places to see and be seen. If you like what actor Tom Holland (Spiderman) is wearing, it might just be something from Lyle &Scott.
One example aimed at young golfers featured topographical map knits and prints that called to mind a stylized version of a golf course. The knitwear is fully washable, made with technical fabric. The new High Summer lines began sales in July.
The company's more traditional offerings present a more muted appearance. I liked the Gregor sweater with its vertical cable-knit lines placed a few inches apart. Prosser said these designs were inspired by the company's archives of past successes.
The Windjammer jackets have on- and off-course appeal, especially for those who have adopted the hoodie as perfect for golf.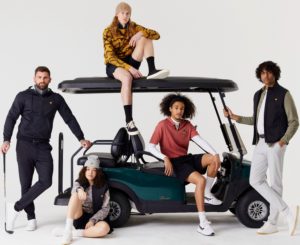 We also discussed English football. Prosser and I forgave each other for our mistaken support for West Ham United (him) and Fulham FC (me).
After the interview, I happened to check the website for Lewes FC, a small club in Sussex County, England that pays its women's players the same as the men. It also offers ownership shares for 30 pounds a year. I am an owner thanks to an annual Christmas gift from my wife.
I saw Lewes FC game photos with the Lyle & Scott logo splayed across the players' shirts.
I found Prosser at the convention center the next day and told him on behalf of myself and the other owners of Lewes FC that I appreciated the company's support. He was stunned and grabbed his phone for a selfie. He later told his brand manager about this coincidence.
Prosser said L&S's sponsorship expressed the company's support for the team's unusual equal pay initiative.
You never know how connections will be made – only that they often show up in unexpected places.
Supply and demand
The basic law of supply and demand was on display on Delaware Route 52 just outside the entrance to Wilmington Country Club during the recent BMW Championship.
That is where the Delaware Museum of Nature and Science is located.
It happens to have a nice-sized parking lot.
During the BMW, the Museum charged $100 for spots for golf fans who did not want to use the shuttle buses for the expected 110,000 attendees across the street.
I applaud the Museum's grasp of basic economics.
First Tee Fall Life Skills courses offered
The First Tee-Delaware is offering its On-Course Fall Life Skills programs at several Sussex County locations.
Depending on the age group and class dates, children can attend these classes at American Classic, Plantation Lakes, Bear Trap Dunes, Rehoboth Beach CC, and Hooper's Landing.
For more information, go to firstteedelaware.org/programs.
Delaware Senior Olympics golf tournament Sept. 12
Delaware Senior Olympics is holding an 18-hole golf tournament Sept. 12 at Wild Quail Golf & Country Club, in five age groups for both men and women starting at 50-54 and up. The event is a qualifier for the 2023 National Senior Games in Pittsburgh next July.
The entry fee includes a $40 charge for green fees and cart and an additional $30 charge for 2022 DSO membership, if not already enrolled in DSO. A closest to the pin contest and door prizes are included. The shotgun start is set for 9:00 a.m.
To register go to delawareseniorolympics.org. For more information contact DSO manager Janette Griffin at 302-736-5698.
Local club competition results
Sixty-eight members of the Kings Creek CC Ladies 9- and 18-Hole groups played a Beat the Pro Scramble Sept. 1. Twenty players qualified for a free clinic.
Carolyn Horn, Nancy Froome, Denise Stewart, and Mary Lou Kupfer won the first flight. Erin Reid, Sheree Mixell, Marie Murray, and Stephanie Roash took second. Gale DiBona, Atom Irwin, Maureen Higgins, and Lesley Corydon finished third.
Diane Herndon, Darci Whitehead, Carol Loewen, and Brenda Shill won the second flight. Donna Deely, Leslie Ledogar, Debbi Grant, and Beth Cohen finished second. Kim Parks, Kay Woollen, Karen Harrington, and Patricia Davis took third.