May 15, 2015
The Cape Henlopen High School golf team kept its winning streak alive with a May 7 victory over Sussex Central, 172-202. The Vikings' record is now 11-1.
Matt Zehner won medalist honors with a four-over par 40 on the back nine at Sussex Pines Country Club. Mike DeStasio and Mason Jones both finished a stroke behind, while Maddie Baptiste's 50 was the team's fourth and final score.
The Vikings were scheduled to play a tri-meet May 11 against Sussex Tech and Woodbridge High School at The Peninsula GC, Tech's home course. The host school postponed the event due to threatened thunderstorms, and the match was rescheduled to May 14.
May 15 is the last official competition date for the varsity match schedule, with the Henlopen Conference North/South championship held that day at Baywood Greens. The conference individual tournament takes place May 19 at Maple Dale CC in Dover.
This year's state championship tournament is to be held May 26 and 27 at the South Course of Wilmington Country Club. This highly rated layout should present a tough challenge.
Second Annual Rookery Cup a success
The Rookery held its second annual Rookery Cup match play tournament May 2-3, pitting golfers in two competitive formats on both courses.
The first round took place at Rookery South, with teams playing better ball of partners for up to 14.00 points. The second round relied on individual net scores in a Nassau round, with up to 28.00 points available.
The Northern (Kyle Deas) contingent won the first day, 8.5 to 5.5. They followed up that performance with an 18.75 to 9.25 victory in the second round against the Southern (Butch Holtzclaw) group.
Rookery North pro Deas said, "It was a great event with both days of golf providing great weather. All the players seemed to enjoy themselves. My team won this year, making the [two-year] totals even between Butch and me."
The winning Deas team included Miguel Lopez, Archie Pearmon, Brian Lord, Brett Warren, Leonard Lucas, Roger Thomson, Bob Seringer, Al Lynch, Jim Broadhurst, Mike Gray, Eugene Burdine, Bill Barnard, and Joe Ciaramella.
The Holtzclaw team included Assistant Pro Chris Osberg in place of Holtzclaw on Saturday, as well as Holtzclaw, John Cole, Dale Jarrell, Charlie Gouert, Gary Swartz, Ed Berringer, Pete Morole, Joe Zingaro, John Hornyak, Tom Owen, Joe McCann, Jack McDuff, Andy Paternoster, and Dr. Balapur Venkataramana.
New golf shirts for the season
The folks at Devereux Golf sent me a few samples of their 2015 Christina O Collection, and these high-end golf shirts are worth your consideration.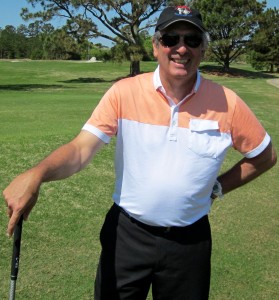 I liked the color schemes of the cotton/poly blend polos, which I think fit well with the Cape Region. The ad copy says the collection "draws deeply from nautical colors, pairing shallow pebble blues, vegetation sage, and flesh- and sand-colored apricots," intended to produce "a sense of relaxation and comfort.
They also look good, not only on male models but also on those of us with dad bod silhouettes.
The shirts Devereux sent me, a navy/white EOS and a white/apricot Luna, carry an SRP of $90. For more information, go online to www.dvrxgolf.com.
Local Club Competition Results
The Kings Creek Country Club Ladies Golf League played their Far Out competition May 7. Vicki Tull won first place in the first flight, with Ana Dittel taking second and Joan Crowley coming in third.
Nadine Carrick came in first in the second flight, with Cathy Casey in second and Katie Heintz in third. Mary Metzger earned first place in the third flight, with Gail Petren finishing second and Joanne Yurik in third. Jeannine Doane won closest to the pin for the day.
Eleven golfers participated in the Kings Creek Ladies 9 Hole event May 11, with Judi Pezone finishing in first place. Sue Eisenbrey won second place on a match of cards, with Jeanne Dixon taking third. Eisenbrey also won closest to the pin honors for the day, on the thirteenth hole.