March 4, 2016
When it come to deciding what to wear while playing golf, there are fundamentally two choices–and those are not "solid" or "plaid".
It's either cotton, or some type of polyester.
Companies that stress their "performance" or "technical" fabrics made of polyester blends are now the leading choice of most golfers. Cotton apparel makers appear to remain a popular option for a smaller, but influential, demographic slice of a very large clothing market.
Golfers tend to stick to one type or the other, from what I have observed.
They either love all the options provided by various "performance" designs, or they continue to love the look and feel of cotton, to use an old marketing phrase.
Here are two examples, from the 2016 PGA Merchandise Show held in Orlando, FL.
Some of the larger golf companies give the appearance of being a one-stop shop for all things relating to the sport. Callaway Golf is one of these brands, famous for their clubs, balls, gloves, and the clothes worn by many touring professionals.
However, for its golf apparel Callaway uses a licensing arrangement with Perry Ellis International, a well-known clothing company that also markets several other well-known fashion lines. For example, the Jack Nicklaus Blue collection can be found at Boscovs and JCPenney.
Callaway focuses on "technical fabrics," polyester blends designed to provide a variety of effects. Tiffany DiPanni is the Marketing Manager for Callaway Golf, and gave every indication of complete commitment to her product lines. She provided a detailed overview of the company's 2016 offerings.
For example, the Opti-Shield line provides up to 50 SPF sun protection. The women's shirts are long-sleeved enough to cover a portion of the back of the hand, without interfering with the swing.
The Opti-Vent line is aimed at warm-weather play, with ventilated fabric panels strategically placed on the garments for better air flow and, of course, "moisture management."
For colder climes, Callaway offers its Opti-Therm clothing.
A waffle-like pattern on the inside of the shirts helps trap warm air inside, but the fabric is thin enough to reduce the need for additional layering when playing in chilly conditions.
The Outlast Midlayer shirts in the Weather Series are made for days that begin cool and then warm, or afternoon rounds that start warm and then cool off.
Callaway's product catalog says this technology "proactively manage[s] the build-up of heat and moisture to help delay the onset of sweat…." DiPanni said these Midlayer items are among Callaway's best sellers.
For wet weather, Callaway provides its Opti-Repel shirts, currently made only for men.
DiPanni also highlighted the stretch fabric panels on this line, not only at the back/shoulders but also at the elbows.
She says no one else offers this kind of protection against tugging during the swing.
Callaway Apparel is available at green grass pro shops, as well as online.
DiPanni said they are also available at Macy's department stores.
Locally, Ruddo's Golf on Route 1 has also carried Callaway clothing.
There is still a place for traditionalists in the golf trade, even in the typically fashion-forward apparel market.
The new Alister MacKenzie Apparel company's offerings can be found firmly on the old school side, with a performance twist that its owners hope will develop a niche among a certain "seasoned" part of the golfing demographic.
Terry Terrette, the pleasantly courtly sales representative I interviewed at the PGA Merchandise Show, said the MacKenzie lines are aimed at a "Return to Cotton."
MacKenzie is headquartered in South Carolina. It imports long-staple cotton from Chile, which Terrette said has similar performance and feel characteristics to Egyptian cotton, a standard for high-end cotton apparel.
The fabric is then treated with Cotton Incorporated's new Wicking Windows formula, which they say provides the first all-cotton moisture-transfer product.
Technical or performance fabrics made of polyester blends are typically claimed to provide similar wicking characteristics, aimed at moving sweat to the outside of the garment, promoting evaporation and reducing wet stains.
For such a pleasant-feeling fabric, when wearing cotton it has always been hard to avoid sweat marks and worse when wearing the fabric in very warm weather. The MacKenzie folks are convinced that the new wicking design addresses that problem, encouraging golfers to keep cotton styles among their clothing options under all conditions.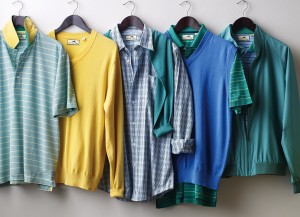 As befits a higher-end product, the colors and designs of these shirts are a nice bit of understated high quality. If you like florescent colors, this is not your world. If you like softer muted tones, or small stripes, these are just the ticket.
The fall lines I saw were inspired by the scenes displayed in photographs of Scotland taken by one of the company's owners. Think grayish blues, sage green, and a soft burnt umber, for example.
The company does offer a performance fabric line, but even there the color schemes are by no means blinding.
The new clothing line, which had a soft launch last year, will be available in green grass shops and higher end men's wear stores.
In the Cape Region, I think these shirts could sell very nicely at places such as Carlton's or Rock Creek, on Rehoboth Avenue in Rehoboth Beach. Terrette said the solid shirts carry a suggested retail price of about $100, with stripe designs costing a bit more.