June 15, 2018
Tonight's the night for my first book signing at Browseabout Books on Rehoboth Avenue, between 5 and 7 p.m.
"Hole By Hole: Golf Stories from Delaware's Cape Region and Beyond" highlights the local courses and personalities that contribute to this vibrant community.
I would love to celebrate golf in the Cape Region together with as many readers of this column as this fine bookstore can hold.
Naturally, the book makes for a fine Father's Day gift, but that's not all it can be. It's also a great gift for your golfing buddies, or a fun treat just for yourself.
Thank you for your support!
A new convert to WaWa
LPGA golfer Marijo Uribe is a past U.S. Women's Amateur winner who represented her native Columbia in the 2016 Olympics and is unafraid to take risks.
In the final round of the 2017 ShopRite LPGA Classic presented by Acer, she boldly hit driver off the deck from 234 yards out for her second shot on the par-5 18th hole. The ball rolled to a stop 7 feet above the hole, leading to a two-putt birdie. I watched her hit that shot and she was obviously excited to see it work.
During a practice range session at the 2018 ShopRite, I saw Uribe almost as excited as she extolled the virtues of WaWa's made-to-order offerings to her amused caddie. "It's really good food," she insisted. "They have bowls and salads and all kinds of sandwiches. You should go there."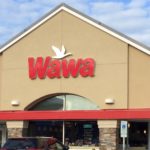 I caught up to Uribe a while later at the putting green, shortly before she was to join her pro-am group for the afternoon. When I said I heard she was now a big fan of WaWa, she laughed heartily. Uribe then told me how she became so enamored of the popular convenience store's food offerings.
"I'm staying with [LPGA golfers] Tiffany [Joh] and Marina [Alex] this week, and Tiffany told me about it. We stopped by on our way back from the pro-am reception last night at the Bellagio. There are so many choices. There must be at least 50 salad dressings. I can't eat donuts, but I did have the Mac and Cheese."
I said, "So you did do your carbo-loading, then?" and she grinned again. "Oh, yeah, definitely. Hopefully we'll be doing a lot more WaWa soon."
Later in the week I caught up to Joh. She laughed out loud when I told her about Uribe, and confirmed what Uribe said about their night at the WaWa.
Considering Uribe's enthusiastic reaction and the fact that the WaWa sells 100% Colombian coffee, I think this could be the start of a great sponsorship relationship.
Delaware Women's Golf Association tournaments now underway
The Delaware Women's Golf Association (DWGA) hosted step aside scramble format tournament June 6 at Chesapeake Bay Golf Club. Among the thirty-two participants, several Cape Region golfers played well.
Arlene Zamora, Shelly Pinkerton, Katia Foret, and Nancy Bounds won first place gross in the first flight. Diane Stetina, Judy Larson, Becky Caprano, and Mo Reardon won low net in that flight.
Bernie Weed, Susan Eichler, Donna Weirback, and Keven Lawson won low gross in the second flight. Peggy Babiarz, Ellen Cannon, Denise Ferguson, and Ginny Ferrara-Dellose won low net in that flight.
Local club competition results
The Kings Creek Ladies 9-hole group played a team Cha Cha game June 6. In this format, one net score counts on odd-numbered holes and two net scores are used on the even-numbered holes.
Ann Bailey, Mary Beth Merolla, and Mary Mezger won the game, with Tina Brown, Noreen Buzerak, and Sue Eisenbrey finished second.
Sandy Neverett won closest to the pin on the seventeenth hole.
The Kings Creek CC Ladies 18-hole group played their team Cha Cha tournament June 7.
Wendy McClay, Vicki Tull, MaryAnn Veitch, and Carol Loewen won first place. Kathy Casey, Barb Hines, Robbie Monkman, and Veitch (blind draw) took second. Gale DeBona, Nancy Froome, Sheree Mixell, and Melanie Pereira (blind draw) finished in third.
Rehoboth Beach Country Club held its Ladies' Invitational June 6. June Allen, Elise Coar, Lou Ann Carlson, and Barbara Collins combined to win the overall net championship.
Karen Sergison, Aubrey Duncan, Mareen Duncan, and Tappy Phillips won first place gross. Linda Kauffman, Diane Braver, Sue Bardsley, and Nancy Mawhinney took second gross.
Jane Forman, Susan Gee, Joyce Pinkston, and Tracy Wing won second net, with Leslie McClintik, Jean Chlastwa, Lynn Sweeney, and Mary Ann Veitch taking third net.
Ann Reed, Carolyn Ivins, Judy Wetzel, and Ruth Lauver finished fourth net, and Sue Scaglione, Ronnie Dannerloj, Stephine Scales, and Linda Egbert came in fifth net.
Aubrey Duncan won closest to the pin on the fifth hole, and Cyndy Simeone won closest to the pin on the fifteenth hole.