November 16, 2018
The major golf associations do great work to promote the game and its benefits to the next generation. Programs like The First Tee of Delaware give juniors a fun introduction to the sport, while helping to impart real-world virtues and character traits that golf at its best upholds so well.
Twelve years ago the Northern California Golf Association created the NCGA Foundation to increase the game's reach to Northern California youngsters, in terms of access to golf courses and affordability. Five years later, the success of that program led to it going national, renamed as Youth On Course.
The 501(c)(3) organization has expanded to several golf association regions throughout the United States. The $5 playing fee for juniors, subsidized by contributions to YOC, has generated over 600,000 rounds of golf. In addition, YOC has awarded $275,000 in scholarships, and arranged for hundreds of caddie opportunities among participating golf courses.
I met with Kaitlyn Petrando, the marketing manager for Youth On Course, at the 2018 PGA Merchandise Show. She highlighted the program's coordination with the First Tee Programs, and then described how the subsidy system works.
"The kids sign up with us and get an identification card. The card has a registration number, which often is the same number people get when they sign up for the handicapping index network [GHIN]," Petrando said. "The clubs keep track of which kids played and when, and report that to us on a monthly basis. Then we send out the subsidy payment to reimburse the courses for the rounds."
While much of the money raised pays for course reimbursements, other funds support the scholarship program as well as internship opportunities.
Youth on Course is expanding eastward at a nice rate. Recently YOC entered into a partnership with the Carolinas Golf Association, which includes over 730 golf courses. That deal expanded YOC's total reach to 19 states, with over 30,000 participating junior golfers.
Delaware State Golf Association executive director Bill Barrow attended a YOC conference earlier this year, and during the summer the DSGA Board discussed joining this program. DSGA's Laura Heien told me recently that joining YOC remains under "serious consideration for a launch in 2019 or 2020 as a part of a more well-rounded support program for all sides of golf."
Chef's Cut Real Jerky
Making sure you have enough energy during athletic activity is critical to your eventual performance.
Most recreational golfers have no trouble staying hydrated. I have seen some keep to a regimen of a can of beer for every other hole, and marveled at their ability to stand up by the time they reach the 18thgreen. When it comes to food, however, I don't often see golfers do much more than grab a hot dog or candy bar at the halfway house or the clubhouse on the way to the 10thtee.
Nonetheless, the need to maintain energy levels remains. During the final round of the 2016 U.S. Women's Amateur championship, Virginia Elena Carta of Italy lay down by the 13thgreen because she was just too out of gas to continue. She rallied after a short rest, but was noticeably tuckered out and finished in second place.
Some attitudes are changing about what to eat while playing golf, especially among younger golfers. Dennis Riedel and his partners formed the Chef's Cut Real Jerky Company to tap into this growing market. "Our products are now on sale at many halfway houses, and that's where we are looking to expand our business," he said during the 2018 PGA Merchandise Show. He said the products are currently on sale at 1,000 locations across the United States.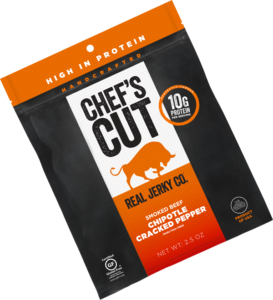 Riedel said they started at the Bayonne Golf Club in New Jersey and developed their own unique recipes for the jerky in beef, chicken, pork, and turkey varieties.
If you calculate the price per pound of a typical 2.5-ounce jerky package, it can be a little startling. Riedel explained they use USDA Domestic Top Round beef, and the jerky-making process shrinks each pound by about 40% from trimming and dehydration. All that processing takes time and money.
The protein level in a one-ounce serving of Chef's Cut jerky is 10 grams, a nice jolt to the system and the equivalent of 20% of your Daily Value according to the nutrition labels. The fat and carbohydrate levels are negligible. The salt levels vary depending on the product, but those with salt sensitivities may want to check the label.
In addition to traditional jerky cuts, the company also offers Protein Snack Packs and Snack Sticks. The Packs combine pieces of jerky with dehydrated cheese into 1.35-ounce bags. The Sticks come in a 1-ounce size and a 3.5-ounce mini-stick option. Riedel said they have a "meatloaf like" consistency.
I tried the Smoked Beef Original Recipe, the Chipotle Cracked Pepper beef, and the Honey Barbecue flavored chicken. Every one of them is a great alternative to the usual stuff. I now try to keep some jerky in my golf bag, but it doesn't last very long.
The Chef's Cut jerky products are available locally at Acme and Safeway.