Sept. 6, 2019
A 2004 trip to Bald Head Island remains one of my favorite golf excursions among the annual Conlon brothers' spring golf trips we made for over 25 years.
After a 25-minute ferry ride from Southport, NC to the island, we took a tiny tram to the Bald Head Island Club, where a member of our group was also a member of this beautiful but frequently punishing golf course. As recounted in a past column, my favorite hole was a 187-yard par 3, for which I used my 2-wood in 20-knot winds to reach the green and make par.
The island took a beating in 2018 during Hurricane Florence, forcing residents and owners off the island until the flooding subsided and power and other services could be restored. As of this writing, the island is facing another hurricane risk from Dorian, but I hope that passes without incident.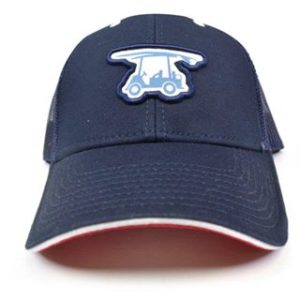 Claude Pope's family has been on Bald Head Island for over 25 years, and he founded Bald Head Blues several years ago. His retail store on the island is also headquarters for his work as BHB's creative designer. During the last four years he and his company expanded their retail network online, featuring clothes that would fit in very well on Cape Region golf courses, the Rehoboth boardwalk, and out and about.
Steve Gray, national sales manager for the company, described the BHB offerings as "a comfort story." The Comfort Flex polos, for example, use a 92% polyester/8% spandex fabric for a remarkably stretchy feel. The color schemes are muted, and the styles include solids, stripes, and the kinds of plaid patterns that would ease a millennial mind.
For the more traditional minded, the Comfort Pure line East Beach polos are 100% pima cotton, with a gingham trim.
Those looking for more moisture management might consider the Comfort Dry line of Albatross polos, which offer wicking in a lightweight poly/spandex blend.
All of the shirts, pants, and pullovers feature the distinctive BHB logo, a stylized golf cart with a surfboard on the roof. It is what you see on the island, where cars are not allowed. Gray said, "People love the logo."
The BHB polos retail for $88, and pants are $96. Zip vests are $118, and quarter zip pullovers are $145. The website also has a variety of hat styles with a large-scale version of the BHB logo.
Shameless cross-promotion with Delaware Beach Life Magazine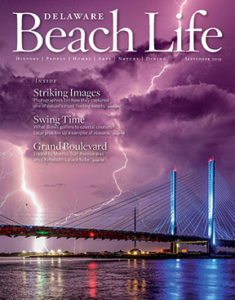 I am happy to report that the Sept. issue of Delaware Beach Life magazine includes a full-page excerpt from my award-winning book, "Hole By Hole: Golf Stories from Delaware's Cape Region and Beyond".
The piece accompanies a fine article about golf courses in the Cape Region, from full-size to miniature.
Both the magazine and my book can be found at several locations, so you can easily do a twofer – with our compliments and appreciation.
Keeping an eye out on the range, as you should
I had just finished an interview on the practice range at the 2019 ShopRite LPGA Classic when for a brief moment I lost my mind.
I didn't come out of whatever daydream I was having until I heard a short sharp warning from Adrian Perez, the caddie for Australian golfer Robyn Choi. I woke up in time to watch a golf ball fly over my head toward a practice green several yards away.
I quickly apologized to Choi and her caddie, but they laughed it off. We then had a nice conversation.
The former top golfer for the Colorado University Buffaloes earned her tour card for 2019 in the prior fall's qualifying series.
Choi's momentarily interrupted wedge practice created several neat strips of divot marks, as she repeatedly hit her 58-degree wedge at target "50 and 38 meters away," she said. Unlike many pros I have watched, Choi kept the ball flight down, preferring to have the ball skip quickly to a stop as it approached the hole. "I like to remove the wind as an issue," Choi said. "For me it's really good when it's open in front, like several of the holes on the [Bay] course we're playing."
She has a point. You don't always have bring in a short shot from on high, if you practice your lower pitches and know when to use them.
Local club competition results
The Kings Creek Ladies 9-hole group played a "Low Putts" game Sept. 4, where the putts were the only strokes that counted for the competition.
Hope Lavachi won the first flight, with Patti Davis in second and Rose Schmidt in third. Gail Petren won the second flight, followed by Jeanne Drake in second and Deb Chase and Jane Perkins tied for third.
The Mulligan's Pointe Ladies golf group played a Low Gross/Low Net game Sept. 3.
Maxine Ansbach won first place gross, followed by Brenda Lewes in second and Sue Brady in third. Carolyn Lambertin won first place net, with Donna Dolce in second and Debbie Quinn in third.