November 24, 2023
The National Golf Foundation recently estimated that national and local charity golf fundraising brings in about $4.6 billion annually for a wide variety of causes. The report suggested four out of five golf clubs and courses host some type of charitable event.
In the Cape Region that number is five out of five. I don't know any local course, public or private, that does not help nonprofits with fundraising.
Some events are bigger, and some are smaller. Here are some Cape Region examples.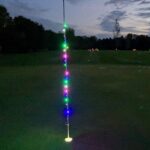 Longtime local attorney Bill Schab invited me to join him and three dozen friends and family for a night golf fundraiser Oct. 20 to benefit the Maureen Schab Fund for Education at Bob and Wendy Stenger's Shamrock Par 3 Golf Course near Milton.
Maureen was a smart, delightful woman with a long and successful teaching career in the Cape District and at Delaware Tech's Academic Challenge program. After she died in 2007, Schab and his children Corey Schab and Kerry Schab Stahl created the Foundation to provide scholarships for graduating high school seniors who planned to major in education.
This year Schab switched the scholarship recipients to fourth-year students in DelTech's bachelor's degree in education program at the community college's Georgetown campus.
"The college kids who are in the program get scholarships for three years but the fourth year for some reason they don't. I have now set up the scholarship fund where I'm going to give them what they need their fourth year," he said.
"I did four kids this year. What's nice about it is they're going to be teachers. They've already been through three years of teaching classes and internships and student teaching. So those are the guys who are going to teach. If they didn't like teaching, they would have been gone a long time. So, it's good."
I joined Rob Witsil, Dave Kirchman, and Anna Dittel in our foursome. We watched our green-glowing Night Flyer golf balls arc across the black sky toward string-lighted hole flags. Our one-under par finish put us among the participants, but we had a wonderful time.
Schab said, "The purpose is to have fun. Wendy and Bob [Stenger] have always been great. They donate everything we collect back to the scholarship fund."
On Sept. 8 the Milton Fire Department and its Ladies Auxiliary held their annual tournament at The Rookery. Tournament chairman Paul Caras said this year's event raised $21,416 for necessary equipment, about 50% above 2022's total.
On Oct. 15-16 the Brain Cancer Answer Foundation held its inaugural McGuiness Memorial Golf Tournament and Auction at Kings Creek Country Club. The tournament memorializes Nicholas McGuiness, victim of a malignant brain tumor in 2022. The Foundation hopes to heighten awareness and raise funds for research and new treatments. The event raised over $101,000.
Southern Delaware Therapeutic Riding near Milton works to improve the physical and emotional wellbeing of children and adults living with disabilities through equine-assisted services for riders and families.
On Sept. 18 84 golfers played in the nonprofit's second annual tournament at Mulligan's Pointe, hosted by Joynt Physical Therapy in Millsboro. The event raised more than $12,500.
The First Tee of Delaware runs or benefits from tournaments and donations throughout the Cape Region.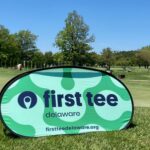 The organization uses golf to develop character and personal growth.
This year's main event was the May 22 Delmarva Scramble at Rehoboth Beach CC. It brought in over $51,000 at the tournament and auction. Other First Tee fundraisers included $900 from the Baywood Men's Association from its winter golf series; $6,845 from the Matt McIntyre Memorial at Bear Trap Dunes; an outing in honor of Michael Hodges at Peninsula Golf and Country Club bringing in $1,875; the annual pro-am at The Rookery Nov. 1 that raised $6,000; the Seaford Scramble at Hooper's Landing that produced $6,410; and a $250 donation from the Heritage Shores Men's 9-Hole golf group. The Women's Peninsula Golf Association also provided a $1,500 grant for First Tee's Girls Golf program.
Over 100 golfers gathered at Mulligan's Pointe GC Oct. 10 for the sold-out inaugural Paul Kares Rock & Roll Golf Fundraiser. The charity supports young people pursuing culinary and performing arts careers. The event brought in more than $20,000.
Some events involve Cape Region locals elsewhere, but the benefits return to help the area. Austin Ebersole, course manager for American Classic GC, played 100 holes in one day Oct. 2 at the DuPont Country Club's Montchanin Course to help raise money for Youth on Course.
YOC subsidizes junior golfers playing at participating golf courses throughout the United States. Cape Region clubs working with YOC include American Classic and Mulligan's Pointe.
Ebersole joined Golf Association of Philadelphia director of administration Laura Heien, George Yearwood, Daniel Hershberg, and Andrew Austen for the 100 Hole Hike. The foursome collected over $23,443 in pledges.
Ebersole told me he could barely climb out of his vehicle when he returned home – and this is an athletic guy.
If you have the time or the dime, please consider participating in these or other charity golf events as part of meeting your own charitable goals in 2024.