November 20, 2020 
If all goes according to plan, the PGA Tour will come to Delaware in August 2022 for the first time.
On Nov. 17 the Tour, the Western Golf Association, and Wilmington Country Club officials announced that the 2022 BMW Championship will be played on the South Course at Wilmington Country Club. The event is normally held in late summer as the last tournament of the FedEx playoff series before the FedEx Championship, held at East Lake in Atlanta, GA.
"We are thrilled to be taking the BMW Championship to Wilmington Country Club," said Vince Pellegrino, WGA Senior Vice President of Tournaments, in a release. "The South Course has everything you look for in a traditional championship layout."
"It is a great honor for Wilmington Country Club to be the first club in the state of Delaware to play host to the PGA Tour, and to the prestigious BMW Championship," WCC Club President Gary Ferguson said. "The passion that fans in this area have for golf is unmatched, and they will enjoy the opportunity to watch the best players in the world compete on this spectacular and challenging golf course."
Wilmington Country Club was originally established in 1901 on the western edge of the city. The club relocated to its current location near Winterthur in the 1950s. Golf course architect Robert Trent Jones Sr. designed the South Course, which opened in 1959. At over 7,500 yards from the championship tees, the South Course is routinely ranked among the United States' best golf courses by Golf Digest magazine.
This is the club's first professional event, but it has a long and successful record as a host for the world's best amateurs. The United States Golf Association has held six championships there, including a U.S. Amateur, a U.S. Girls' Junior, and a U.S. Mid-Amateur. 2019 BMW Championship winner Justin Thomas previously played at WCC during the 2013 Palmer Cup, an international amateur competition.
The club and its membership are also public-spirited in support of young Delaware golfers. The Delaware State High School Championship has been held there four times. In 2003 Cape Henlopen High School's Tyler Whitman won the second of his individual state titles at the South Course, with his first state championship at nearby DuPont CC.
"Delaware is excited to host the 2022 BMW Championship," said Governor John Carney. "Not only will the BMW Championship enhance the local economy, it will showcase a wonderful course and dynamic community to a global audience."
The 2022 BMW Championship also supports the Evans Scholars Foundation of the Western Golf Association, which awards full tuition and housing college scholarships to deserving youth caddies. Two caddies have earned Evans Scholarships from Wilmington Country Club – Owen Griffin graduated from the University of Illinois in 1983, and Dan Walsh currently is a junior at Penn State University.
"We are proud of our collaboration with the Western Golf Association and of the support that we've been able to provide to the Foundation," said Bernhard Kuhnt, President and CEO, BMW of North America. "As the title sponsor of this tournament for the past 14 years, together we have helped send over 3,000 young students to college."
Look for updates about the Delaware BMW in future columns.
Zero Friction
Zero Friction started because John Iacono wanted to buy a black golf glove and couldn't find one at the pro shop.
He discovered that club pros carried such a wide range of glove sizes that space reasons dictated a single-color option, usually white. In response, the Chicago entrepreneur developed a one-size-fits-all glove. That design switch created the ability to display a wide range of color gloves.
I stopped at the Zero Friction booth at the 2020 PGA Merchandise Show booth to see what was new. Sales rep Mike Klear first showed me their new Americana gloves. Proceeds from selling these red, white, and blue models support a veterans' golf association.
We also looked at the new Ultra Feel gloves, which have added padding underneath the Cabrera leather segments.
The company is branching out from golf to make gloves for other activities. Zero Friction's new Active Wear Work gloves are rated for temperatures down to 32 degrees, and its index fingers are designed to be touch-screen compatible. The company also makes gloves for cycling, shooting, and other sports.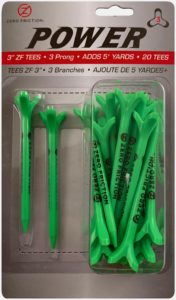 "Our position in the golf glove market has been really strong," Iacono said. "In 2018 we were number 2 in off-course sales. Part of the reason for our success is that we not only sell a lot, but we also replenish fast. Our customers really appreciate that," he said.
The Spectra matte finish golf balls continue to do well for the company, as more golfers switch from white to more colorful ball options. For those seeking even more color coordination, the Spectra Distance Pack includes two 2-piece Spectra distance balls and 18 3-prong tees in matching colors.
Zero Friction claims that the combined use of these tees and balls will add 15 or more yards to golfer's tee shots. If that isn't enough incentive, the company also donates a portion of the proceeds from these packs to the First Tee program.
Your actual distance may vary, but it will still be for a good cause.