August 30, 2019
Thousands of golf courses support the Patriots Golf Day fundraisers during Labor Day Weekend.
The Folds of Honor organization, a 501(c)(3) charity, has generated millions of dollars for college scholarships for spouses and children of fallen and disabled military service members.
This year's Sussex County course participants include Baywood Greens Golf Club, The Peninsula Golf and Country Club, and Kings Creek Country Club.
Much of the money comes from donation boxes at pro shops. Other money comes from contests. For example, golfers will play closest to the pin contests at Kings Creek CC, with a portion of the proceeds going to Folds of Honor.
For more information or to make a donation, go to foldsofhonor.org or contact the organization by mail at 8551 N. 125thEast Ave., Owasso, OK 74055.
Cape Region represented at DSGA Senior Championship
Congratulations to the Cape Region golfers who played well in the 2019 Delaware State Golf Association Senior Championship, held Aug. 19-20 at Back Creek Golf Course in Middletown.
Tim Freeh of The Rookery was the lowest scoring local golfer at +6, tied for ninth place behind winner John Gosselin of Kennett Square Golf and Country Club. Other participating Cape Region golfers included John Walsh of Bear Trap Dunes (T-18) and Mark Blazejak of The Rookery (T-41).
First Bethany Beach VFC Tournament Sept. 4
The Bethany Beach Volunteer Fire Company Auxiliary is holding its first fundraiser golf tournament for the Bethany Beach VFC Sept. 4 at The Salt Pond Golf Club. Tee off for the scramble format event is at 9:00 a.m. with registration beginning one hour earlier.
Players can play 18 holes for $65 or 9 holes for $45, with discounted rates for Salt Pond members. A lunch-only option is available. The fee covers the round, cart, range balls, prizes, and a catered lunch, and can be paid at the Salt Pond pro shop.
For reservations or for more information, contact Linda Smith by phone at 302-616-1868 or by email at lsmith765@yahoo.com.
Volunteers needed for Sept. 14 Freeman Foundation golf outing
The 13thAnnual Joshua M. Freeman Foundation Golf Tournament takes place Sept. 14 at the Bayside Resort Golf Club. The daylong event is a major source of funds for the Freeman Stage and the other public arts support provided by the Foundation.
Freeman Stage volunteers provide caddie assistance for the players, but more folks are needed to fill some coverage gaps. Interested volunteers should contact Denise DiSabatino Allen at denise@freemanfoundation.org.
Golfers and sponsors sought for Sept. 30 Delaware Hospice event
Delaware Hospice is holding its 11thannual Memorial Golf Outing Sept. 30 at Cripple Creek Golf and Country Club, and is seeking more golfers and sponsors.
The format is a full team scramble using the Calloway scoring system. The $125 entry fee can be supplemented with a $25 golf package that includes two mulligans, entry in a putting contest, and five raffle tickets. Sponsorship options run from $250 to $2,000.
Registration begins at 10:00 a.m. along with the range. After the 11:00 a.m. lunch, the shotgun start commences at noon. The awards dinner begins at 5:30 p.m.
Current sponsors include Bayhealth Medical Center, Community Bank, and Highmark Blue Cross Blue Shield of Delaware.
For more information, contact Peggy Dolby at 302-746-4666 or pdolby@delawarehospice.org.
A warmup exercise
 I watched LPGA golfer Cindy LaCrosse on the practice green before her morning tee time for the final round of the 2019 ShopRite LPGA Classic presented by Acer. You might consider adopting one of her routines to improve your targeting, focus, speed control, and attitude.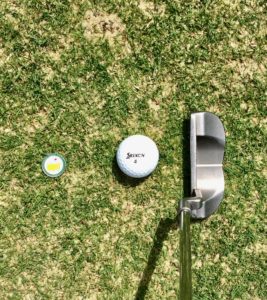 Place a quarter or quarter-sized ball marker on a relatively flat area. Putt three times from three feet away, aiming to hit the quarter and stop the ball one foot past it.
Do this from four different spots around the quarter/marker.
Once that's finished, do the same thing from four feet, and then again from five feet.
The quarter will sharpen your aim. It is a tiny target from those distances. Therefore, anything that rolls an inch to either side of it would still go in the hole, if there were one.
If the ball stops a foot past the marker that means it had enough impetus to stay on line as it approaches the hole.
This short putt practice technique should boost your confidence while playing.
Local club competition results
The Kings Creek CC Ladies 9-Hole group played a team scramble that also featured a "Beat the Pro" contest. Each team that beat a club pro's score on a par 3 won free lessons with that pro. 
Deb Chase, Sue Eisenbrey, and Sandy Neverett won first place, with Hope LaVachia, Linda Miniscalco, and Judy Pezone finishing second.
Only one of the eight teams beat the pro, however.
The Mulligan's Pointe Ladies golf group played a Throw Out game Aug. 27, where only 15 hole scores are counted. Carmela Boyle won first place, with Cathy Macklin taking second and Lori Buthmann finishing third.
The Kings Creek CC Ladies 18-Hole group played a One Best Ball of Three game Aug. 22, won by Nancy Froome, Melanie Pereira, and Barbara Weissenberger.
Donna Deely, Kay Woollen, and Sally Chamberlain finished second.